While writing my previous blog, great places to go after work in Brighton, it got me thinking about my life prior to estate agency which was cocktail waitering. It was a job I loved (except for the hours!) and I worked in some great, small independent cocktail bars. Over the time I worked as a cocktail waiter I enjoyed making many different drinks and found it interesting how everyone seemed to always have their own favourite. Very rarely would you get an order of the same drink, if you were serving a group of 6 you would normally have an order for 6 different drinks which made the job a lot more interesting and kept it very varied. As we get closer to the party season I thought I would chat to the Move Revolution gang to get their thoughts about what cocktails or drinks they will be having on New Year's Eve. A selection of their choices are below, along with the recipes so you can make them, along with some little cocktail waiter tweaks of my own.
Beer!
I thought the best place to start would be in my own office with Joey, my right hand man down here in Brighton. Unfortunately, it turns out Joey isn't a huge fan of cocktails and tends to enjoy beer a lot more. So we had a chat about that as I learned a fair bit about good beers too. As he enjoys ales more than lagers we tried to find something good for the winter. He has always been a fan of Harvey's Sussex which is a locally brewed beer to us in Brighton as Harvey's brewery is in Lewes. A lot of the local pubs in Brighton tend to sell Sussex and it is recognised throughout the south as a good well brewed ale. I have recommended to Joey that next time he is in the mood for a beer that he should try Harvey's "Winter Warmer" beer called Harvey's Old Ale which is only available from October throughout the winter months. It is a soft, nutty beer that is perfect to enjoy sat in front of an open fire in many of Brighton's brilliant local pubs.
Martini
After Speaking with Joey I caught up with our Head of Marketing, Nici. She was telling me that on NYE she really enjoys a martini. A martini is a very old traditional cocktail made with dry vermouth and gin, however over the years, various cocktail waiters have put their own twist on this old favourite and for Nici I knew she was a lover of coffee so I suggested she try an Espresso Martini. This is a very simple cocktail to make you will need:
50ml of good vodka (whichever is your favourite)
25ml of Tia Maria or Kahula (coffee based liquor)
20ml Sugar Syrup (vanilla or caramel flavoured syrup also works well)
15ml of espresso
1 Tsp of Hot chocolate powder or cocoa powder
3 coffee beans
First of all, mix the hot chocolate powder in with the espresso, then fill a cocktail shaker with ice and add the Vodka, Tia Maria, sugar syrup and espresso mix, then shake for 30 seconds and pour through a small strainer into a martini glass. Decorate by placing the three coffee beans in the middle.
This is a great cocktail to get the night started as it will give a little extra lift from the caffeine in the espresso, not one to be drinking too many of though as it is very sweet and can be very rich. Why not make your own at your New Year's Eve party? I think Nici might be trying to persuade me to make her this one!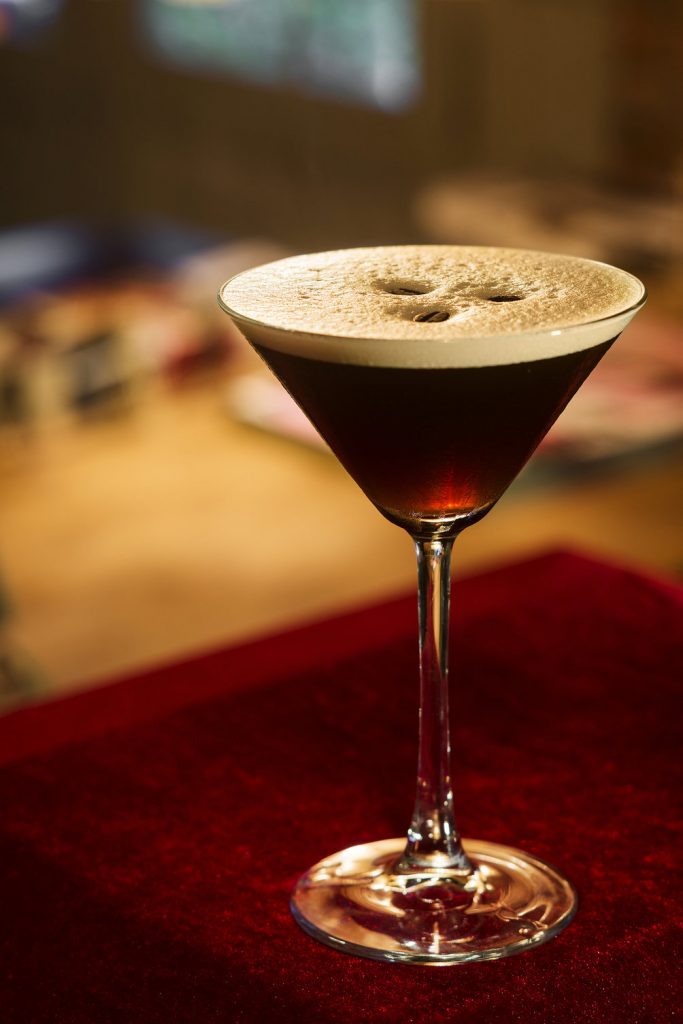 Mojito
I had the same conversation with Mathew, our Area Sales Manager for the Haywards Heath area. Mathew's favourite is another classic called a "Mojito" which descends from Cuba and is made with rum and mint.
To make this cocktail you will need:
50ml of golden rum (traditionally Havana Club)
6/8 mint leaves
4/6 wedges of lime
2 tsp of sugar
Soda water
Crushed Ice
First add the mint leaves and the sugar to a tall glass and using a muddler (or rolling pin) bash the mint and the sugar. Next squeeze in the juice from the lime wedges and then add them to the glass. Next, half fill the glass with crushed ice and add the rum, using a long spoon stir the mixture together for 30 seconds, then top up with soda water and finish with some more crushed ice and some mint leaves to decorate.
As a variation on this classic I have suggested that Mathew asks for a Strawberry Mojito which is made in the same way, however instead of using limes you add strawberries which helps makes it a little sweeter.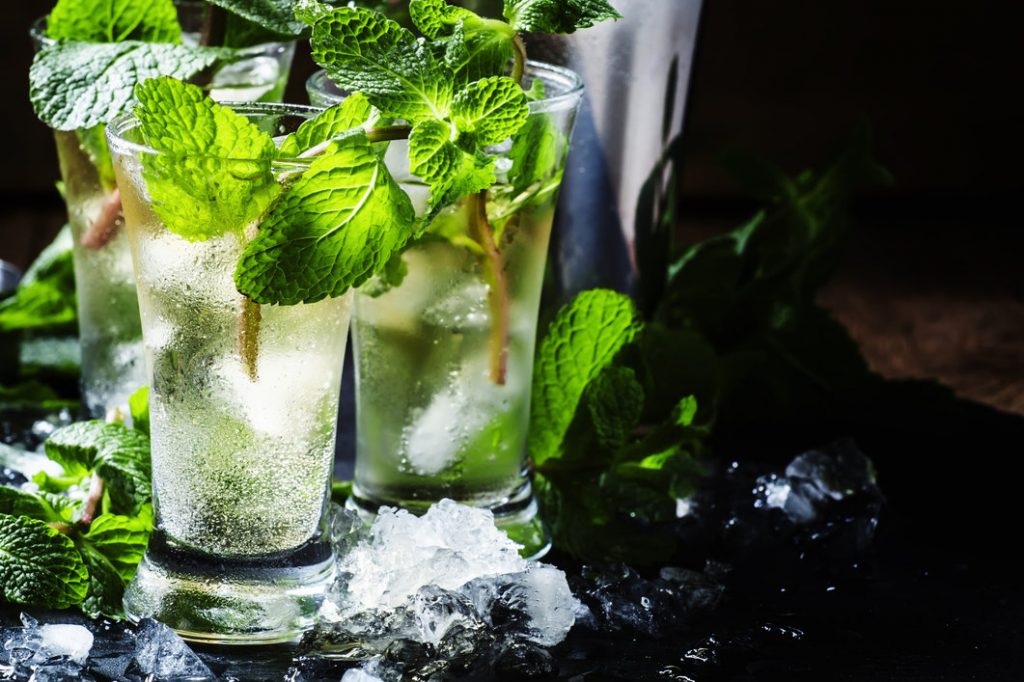 Smokey Bramble
At our recent Christmas party, I was speaking with Ryan, our sales negotiator in our Croydon branch and discovered his favourite is a cocktail called a Smokey Bramble. Not a commonly known drink as we found when we approached the bar to order one, I had to explain to the bar staff how to make it. It is really simple and you will need:
50ml of "Smokey" Scotch (Monkey Shoulder Scotch is a good choice)
25ml of cherry liquor
1 tsp of sugar syrup
A squeeze of lemon juice
Crushed ice
Fill a tumbler style glass two thirds full of crushed ice, add the scotch, sugar syrup and lemon juice and carefully stir with a spoon. Once this has been fully mixed, top up with crushed ice so that there is a small peak of ice above the rim of the glass and then slowly pour the cherry liquor over the ice so that is sits on top of the rest of the cocktail.
This is a great cocktail as an introduction to scotch as it gives a sweet twist on the old very popular liquor.
Cointreau Fizz
One of the other staff members who had noticed me getting Ryan a different drink was Hannah, our Lettings Manager and she asked me if I could come up with a new drink for her to try. Hannah is a big fan of champagne and wondered if I could come up with a cocktail that would make it a little more interesting. I gave it some thought and suggested she tried a Cointreau Fizz. To make this, you will need:
50ml of Cointreau
A fresh passionfruit
Lime juice
Agave syrup
Good champagne to top
Crushed ice
Start by emptying the inside of the passionfruit into a tall glass then fill the glass two thirds full with crushed ice and add the Cointreau, lime juice and syrup and give all this a good stir. Once mixed add a little more crushed ice to the top of the glass and pour over the champagne.
This is a great fruity cocktail made all the more special by adding the champagne, luckily for me Hannah really enjoyed it and recommended it to a few of the others!
English Fizz
Having spoken to the other members of staff about their favourite cocktails I started to get thinking about mine and what I would pick if someone was making them for me. As you can imagine I have tried hundreds of different ones over the years but my favourite is definitely gin based and would have to be an English Fizz. To make this one you will need:
50ml Good Gin (I personally like Hendricks)
25ml Elderflower liquor
1 Tsp Cucumber syrup
4/6 mint leaves
Lemon juice
Soda Water
Crushed Ice
First thing to do is clap and rub the mint leaves between your hands, then put them into a tall tumbler glass and add lots of crushed ice. Add the Gin, Elderflower liquor, cucumber syrup and lemon juice into a cocktail shaker with some cubed ice and shake for 30 seconds. Then pour over the mint and ice, top up with soda water and garnish with a mint sprig and a cucumber twist. PERFECT.
So there are just a few different ideas for cocktails at NYE or anytime really, there are so many different ones to try but the best ones of all are the ones you create yourself so why not grab a few different liquors some different fruits and try mixing your own. Do share with us if you make some delicious creations!