It's our favourite time of the year! Chocolate eggs, bunnies and cute farm animals – who could ask for more
 Thank you for all your emails about our events and what you would like to see this year.  Back by popular demand is the Move Revolution Mini Farm.
As it is Easter we will have extra bunnies at our farm! Come and join in our Easter Fun – we will be at:
 Redhill Memorial Park on Tuesday 31st March
Reigate Priory Park on Wednesday 1st April & Thursday 2nd April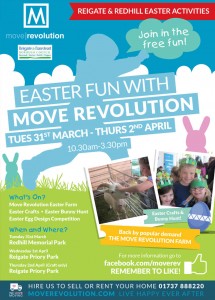 We will have a variety of fun, free activities for you to join in, including an Easter Bunny Hunt, Easter Crafts, Design an Easter egg competition and our Move Revolution Mini Farm.  Activities will be running from 10.30am until 3.30pm on each of our activity days.  The mini farm will be 'open' on the first two days of our events.
We look forward to seeing you all – remember to bring your friends and family!