Will You be Joining the Reigate Run
Are you running this weekend in the first ever Reigate half marathon? It seems to be the hot topic on facebook, in all the local coffee shops and conversations on the high street. At Move Revolution we are proud to be a sponsor of the event as Chris Crabtree, one of our Directors is Co-Director of the race. Chris Crabtree and friend Dave Kelly came up with the idea of the half marathon – the creation of a brilliant community event, which would support local charities (Samaritans, Kent, Surrey and Sussex Air Ambulance and Tadworth Children's Trust)
"We saw the opportunity to create a new event in Reigate which combined our love of running with our love for the area we live – we are delighted that the council bought into our passion and vision for the event and thrilled this is now reflected in the number of runners who have signed up to take part"
Chris Crabtree, Director Move Revolution / Co-Director Run Reigate
Getting involved in our local community
At the point of writing there are now 3500+ runners primarily from Reigate and Redhill – all of which has been training and pounding the streets and paths of the local area in preparation for the 13.1 miles. It was a natural progression for us to be sponsors of the event with Chris at the helm! At Move Revolution we believe in getting involved in our local community – and giving back, We already have a wonderful relationship with Priory Park as we work closely with Reigate and Banstead Council to run all the children's holiday activities – all for free.
"We have worked with Move Revolution for the past three years at Priory Park to create free events for local children. Their support and professionalism running these events is evident with the growing number of children who attend during the holidays and the fantastic feedback we receive"
Helen West, Priory Park, Parks Officer
Every time we sell or let a property we put money towards our local get moving childrens events.
Move Revolution launches the Run Reigate 'Route Preview'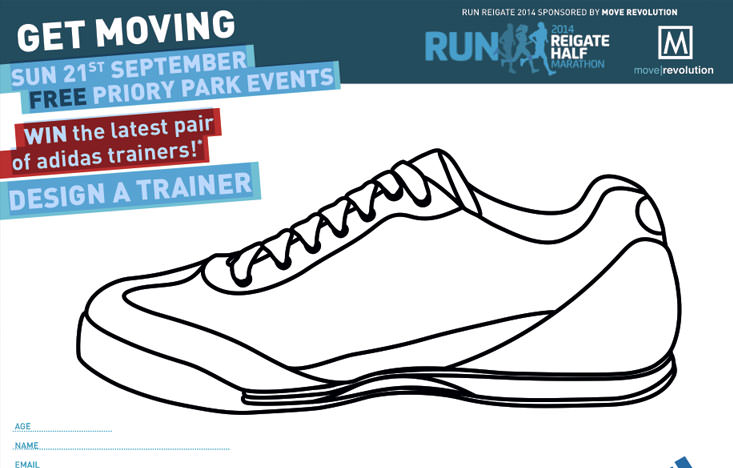 Part of our involvement in the event is not just to support runners – but also all the friends and families who are coming to cheer them on! As part of our event activity we are running a 'design a trainer' competition for children (aged 4-11 years at primary school) you can join us on the day at our event marquee to design your trainer, or enter on line via our facebook page (which has all the terms and conditions – facebook.com/moverev)
"The Reigate Half marathon will be a fantastic community event, we are delighted to be a sponsor of the event and proud that our Director Chris Crabtree has been instrumental in the set up of this event in our local community"
Cliff Cooper, Managing Director, Move Revolution

JOIN THE RACE