Say 'hello' to Boogie Monsters!
Boogie Monsters are joining us for the second year at Move Revolution's Prioryfields.  Have you been to a Boogie Monster party or 'gig'? We had a chat with Kelly Dare from Boogie Monsters over a cup of coffee to find out more…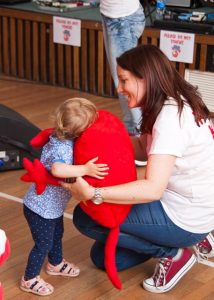 When  did it all start and what has happened since the beginning? 
Boogie Monsters was founded in July  2014, so we are three years old this year!
I am a  mum of 2 and a musician, and I was very keen  to introduce my children to music from an early age. However, I soon discovered that a lot of children's music is very cheaply made, synthesised and frankly not very exciting or inspiring – for both children and parents!
I wanted to ignite a passion for REAL  music, with real musicians playing instruments  - the excitement of a live band! I wanted to create a family experience where people could sing and dance together, and for children to get to see live music in a setting that isn't usually very accessible to them.
So I took the plunge, got my brother Ben (guitar) on board, and other professional  musician friends Nicki (singer), Martin (bass) and Steve (drums) and together we created Boogie Monsters!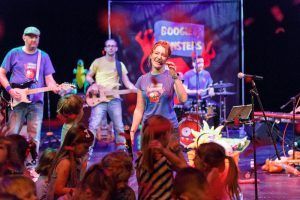 From church hall to Camp Bestival..! 
Our first family gig was in a church hall in Reigate, three years ago and since then we have played to thousands of families across the UK, at our own organised live gigs as well as at public festivals,  birthday parties and organised family events.
With a focus on high quality rock and pop music, our aim is to appeal to parents and children alike, with our musical mash-ups of chart hits, TV and film favourites, funky nursery rhymes and rocked-up action songs.
We use bubbles, colourful props, inflatables, ribbons, a parachute, confetti and much more to encourage the children to interact with us and the music, and allow them the freedom to be creative with their movements.
It's fascinating to see how inventive  children are with the simplest of props  - at a recent gig, they were all lying on the floor making rainbow ribbon angels!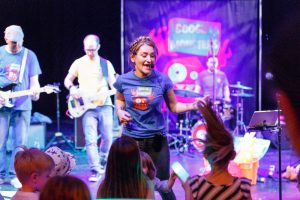 What do you enjoy most about Boogie Monsters  
I  feel very proud to have created something which is completely different, and although owning your own business takes incredible commitment and drive, it's very rewarding and gives me the opportunity to perform again and the flexibility I need to work around family life.
I also  specialise in teaching piano to  people with visual impairments and autism, and enjoy the balance of teaching and performing that I now have in my working  life.
Playing in a band is the BEST fun ever, and I am lucky to have a job where I am having a great time!
When we are performing, we just love watching the children's reaction to the band – I hope for  them to be inspired by seeing us play, particularly when it's music they can  relate to. My son has been to nearly every one of our public concerts, and is now a budding drummer!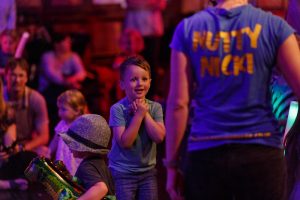 Looking out into a crowd and seeing families share the  experience, connecting and  having fun together is really special. We take great care in creating our content and it is important to us to make sure our gigs are full of songs that will appeal to adults as well as the children, so the grown-ups can enjoy the concert as much as the little ones!
We work regularly with the charity Music for Autism, bringing our live music into schools for children with  autism and other disabilities – in  particular to those children for whom accessing live music would be very difficult. This is one of the most  rewarding parts of what we do – music has an  incredible way of reaching people and the impact it has on the children we work with is  indescribable. Teachers and support staff are often moved to tears by the reactions of the  students to live music – for example, children who rarely speak  suddenly  singing a whole song into a microphone, with words their support staff didn't even know they had!
What is your biggest achievement to date?  
This year we are so excited to be taking Boogie Monsters to Camp Bestival, where we will be performing twice a day over the entire weekend.
This is our biggest gig to date and we are so proud to be offering something different and  unique – and it feels so good that other people think so too!
In 2016 we won the Muddy Stilettos Award for best children's business, and we have been nominated numerous times for the International What's On 4 Awards, as well as winning a £1000 Heart of the Community Award, which we used to put on a concert for children  and families cared for by Shooting Star CHASE Children's Hospice.
What are you looking forward to the Prioryfields? 
We have worked lots with Move  Revolution over the past year or so, bringing our  unique music to the  local community through the amazing free family events that they put on – we are really looking forward to MONSTER DAY and will have plenty of monster songs for you all to get involved in – get ready with those ROOOAAARS!!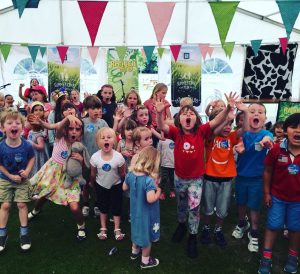 What does the future hold for Boogie Monsters?  
There are certainly exciting times ahead for Boogie  Monsters!
We plan to write and record our own music so that children can sing and dance to our tunes in their own homes / cars /schools!
We are also putting on more of our live music  events for families across the  South East, so check out our website and follow us on social media to find out when we are playing near you!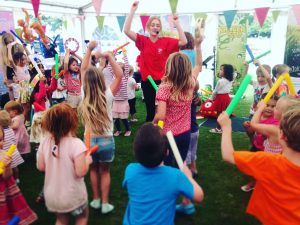 Do you have a motto or  inspirational quote?  
We like this from Stevie Wonder…
'Music, at its essence, is what gives us  memories. And the longer a song has existed in our lives, the more memories we have of it.'
And this from Roy Ayers…
'The true beauty of music is that is connects people. It carries a message, and we, the  musicians, are the messengers.'
How can we find out even more about you?
www.boogiemonsters.co.uk
www.facebook.com/boogiemonstersuk
www.twitter.com/Boogie_Monsters
www.instagram.com/boogiemonstersrock
If you would like to boogie with Boogie Monsters come and join us at Move Revolution's Prioryfields on Wednesday 26th July, they will be with us from 11am until 3pm.
If you love our free children's activities and you're thinking of selling or letting your home, help us to put more events on for your family by calling our team on 0330 223 1000.
A big thank you to Peter Breach Photography for all the Boogie Monsters photographs!