A wonderful part of our job is seeing gorgeous homes…we recently met Dominique Ashbee Latowsky the owner of ASH & SKY Interiors who has the most incredible style (we have had so many comments about her gorgeous property)
With so many of you looking to find out more about the inspiration for Dominque's gorgeous home… we took the opportunity to find out more about her inspiration for her design work… and importantly how to recreate her style in your home!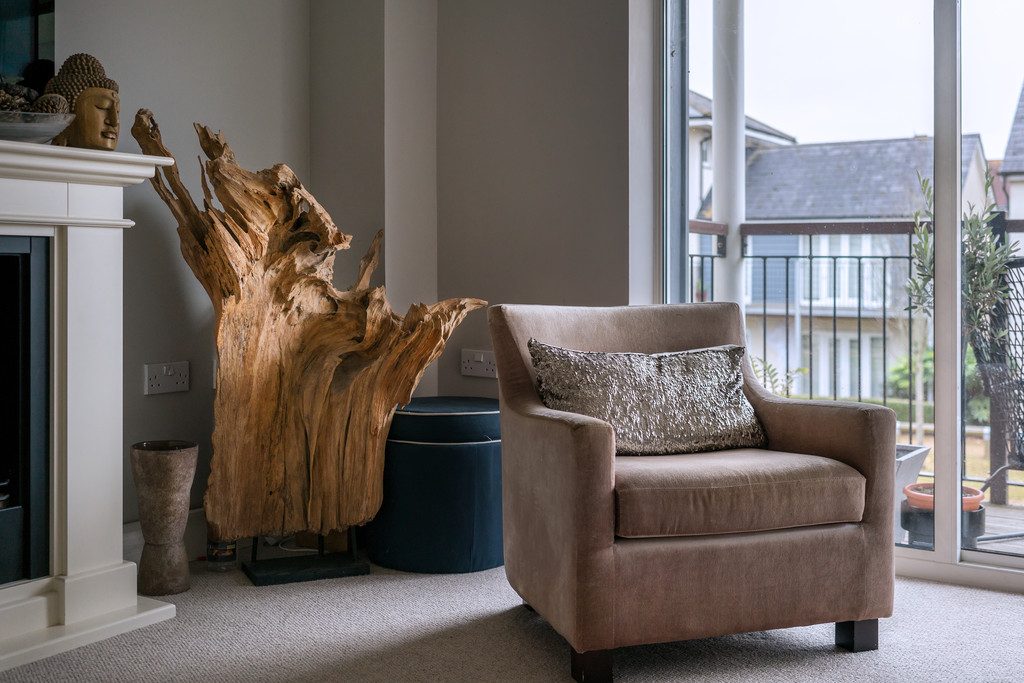 Dominque it is so lovely to meet you – tell us about how you came to be an Interior Designer?
While I was growing up I watched so many black and white Hollywood films, it really influenced my sense of style and passion for Interiors and Fashion. I love the elegance and sophistication of each Era & film that was portrayed. This guided my way into going to University for Fashion Design in California, where I grew up. While at University in California I was very much influenced by the 20's/30's/40's/50's and all my clothes were vintage, hair style and all. Always with a unique twist of course.
I had many jobs working on TV show sets in the wardrobe and props departments. Once I finished with my degree I travelled the world, which allowed me to experience different textiles, interiors, fashion and really a sense of diverse culture. I then moved to the Middle East where I taught Secondary and University level Art at the American International School. This allowed my love of Art History to be enhanced even more, which also influenced my love of Interiors and Fashion.  My final move was here in the UK, and I knew after all my travels and knowledge I had experienced, my love of Interiors was now my main devotion and priority, so I went back to school and got another Degree in Interior Design….leading the way to eventually starting ASH & SKY.
How would you describe your style?
With all my travels, I'd say this has definitely influenced my eclectic sense of design and style. I love vintage furniture and accessories (ex: my grandmothers cut crystal decanters, Antique hand carved Omani house front door I have used as a coffee table and now a stunning wall hanging, vintage jewellery which I have a soft spot for, & Industrial and Nordic calm ) I like to mix my styles with modern elements.
Can you share with us a one of you top tips!
 It is always best to invest in neutral large pieces that can adapt over the years  with your accessories, mood, and season. Style is always changing. It is easier to change a vase, or a pillow than a large sofa.  In the winter I bring out fur cushions, throws, white pompoms hanging from my ceiling. In the summer I will introduce more of a colour palette – say a soft and hot pink with greys for example.  I love candles and this can add a pop of colour too. I will try to add a reflective element into my schemes to add that sight sense of glamour. Even if you have a Bohemian style, add a brushed silver footstool or gold/bronze accents.
Remember to allow your style to be adaptable throughout the year. Choose your favourite colour or the colour that is in vogue at the moment and accessorise.
As you know we had amazing comment about your style.  Can you share with us your design tips for a few of your rooms!
Boys Bedroom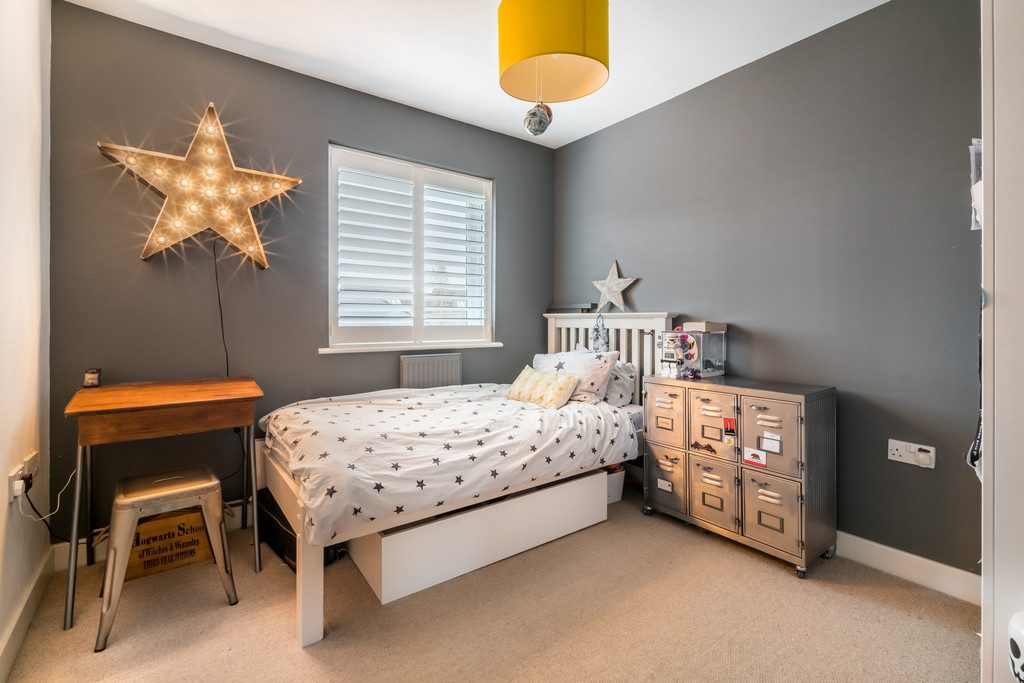 I have 2 children and my son asked me to design a room for him that allowed him to transition into his teens, so again my love of vintage steered me into the Industrial feel (with a extra large star, which reminded me of an old shop sign, this is from MADE.com) It is a room he can add to over time. The paint colour was Myland's Leadenhall. There are so many shades of grey and this one was perfect for this particular room and light.  The vintage locker style cabinet was influenced by American school lockers I grew up with, so I had to put these in his room. Very teenage. They are from a company called KARE. Purchased through Taylor Jane, Reigate. The vintage school desk was purchased on Ebay. I go to lots of vintage fairs, Ardingley, Kempton and car boot sales. I am always sourcing new items to put into my Interiors for myself or clients. I knew I wanted a vintage school desk but couldn't find one that wasn't outrageously expensive or the wrong size, then started looking at eBay. The desk was in a state so we sanded it down, restained it and sprayed the legs with automobile paint. It turned out stunning. The iconic stool is from the designer Tolix.
Girls Bedroom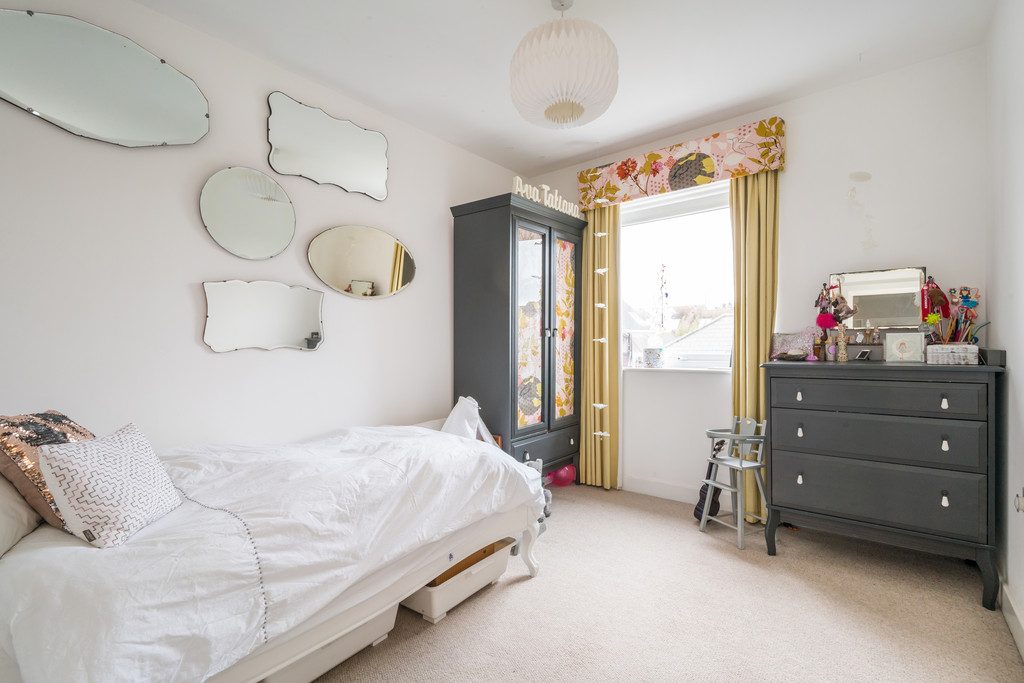 My daughter's room evolved when she was very young. I wanted a room that would take her into early teens and was adaptable by adding layers and accessories. I got the vintage mirrors one at a  time at car-boot sales, or passing vintage shops while out sourcing other pieces of furniture for clients. I will always scan and find items wherever I go. Painting  the furniture a bold dark colour that compliments the theme is a statement. It can always be repainted years later if you change your style, to be ever adapting. I sourced the fabric from America, designers Anna Maria Horner and Michael Miller. I lined the curtains and wardrobe panels with contrasting fabric the complimented the scheme.
Master Bedroom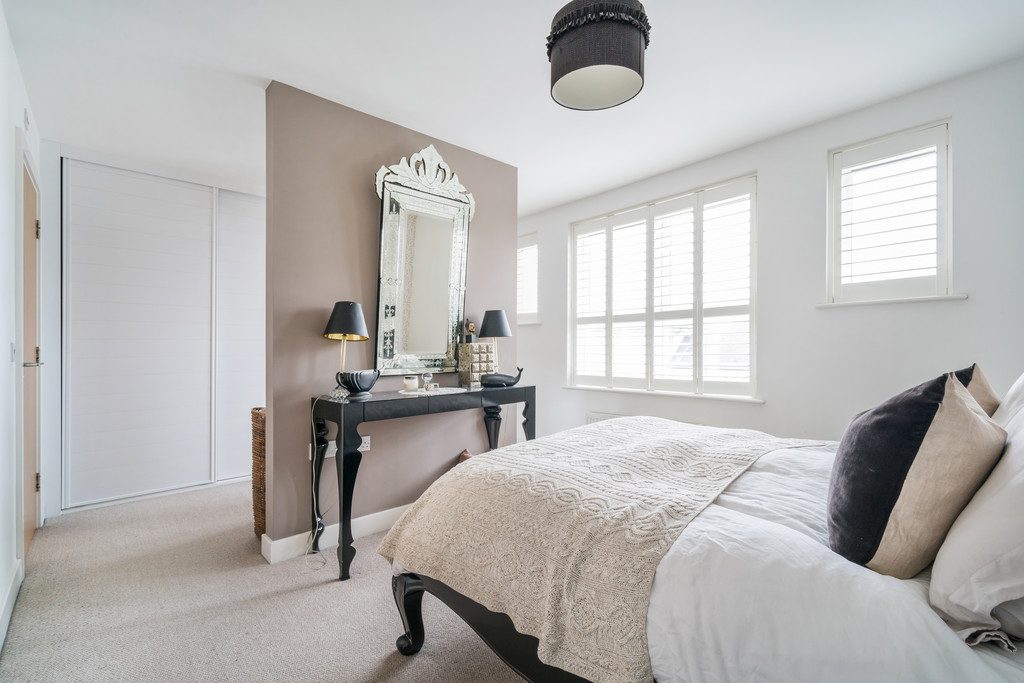 We are very lucky to have a dressing room area so we made a feature of the wall and painted in Charleston Grey, Farrow and Ball. The wallpaper that was used was Vivian Westwood's close up Vintage Lace. The french style bed was from Graham and Green and the cushions were created by ASH & SKY as were most in the house. The beautiful woven throw was from my mother. I love that it has a history, but still fits into any room as if just bought recently. Timeless. The Venetian mirror was bought through a company similar to, Masion du Monde. The black side table is from Heals,  the lights are vintage from the 1920's. Marrying vintage, old and new together. For accessories there is vintage lace placed on the table for texture, a Middle Eastern jewellery with multiple little draws, this brings that reflective element into the room, a vintage black Wedgwood vase and a modern black porcelain whale by Abigail Ahern for a twist. (whom I love her approach to colour as a designer)
Open Plan Kitchen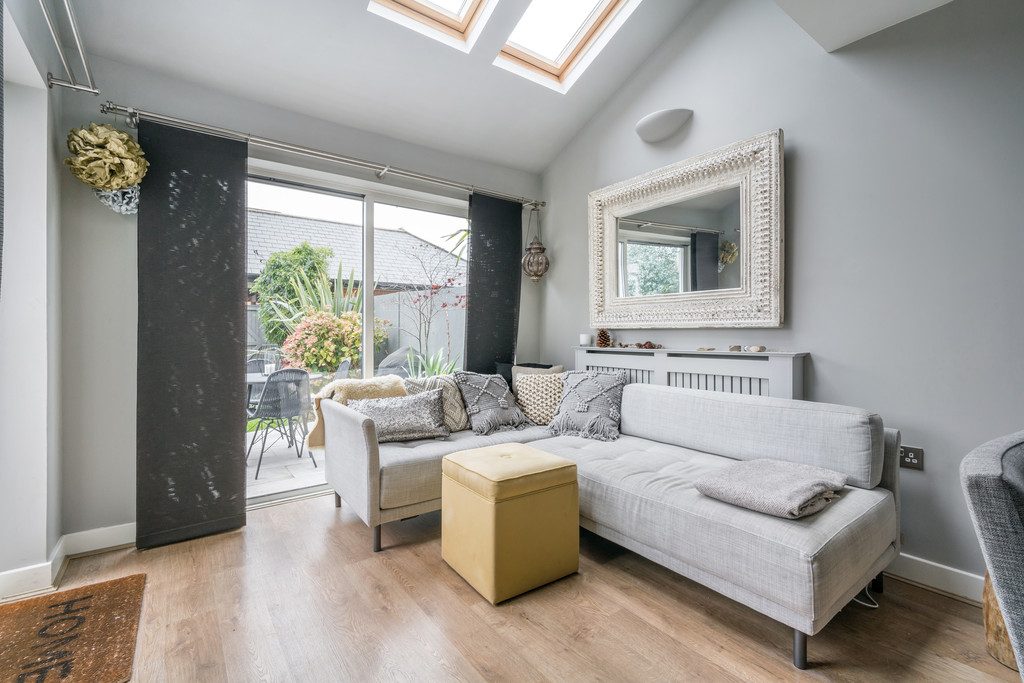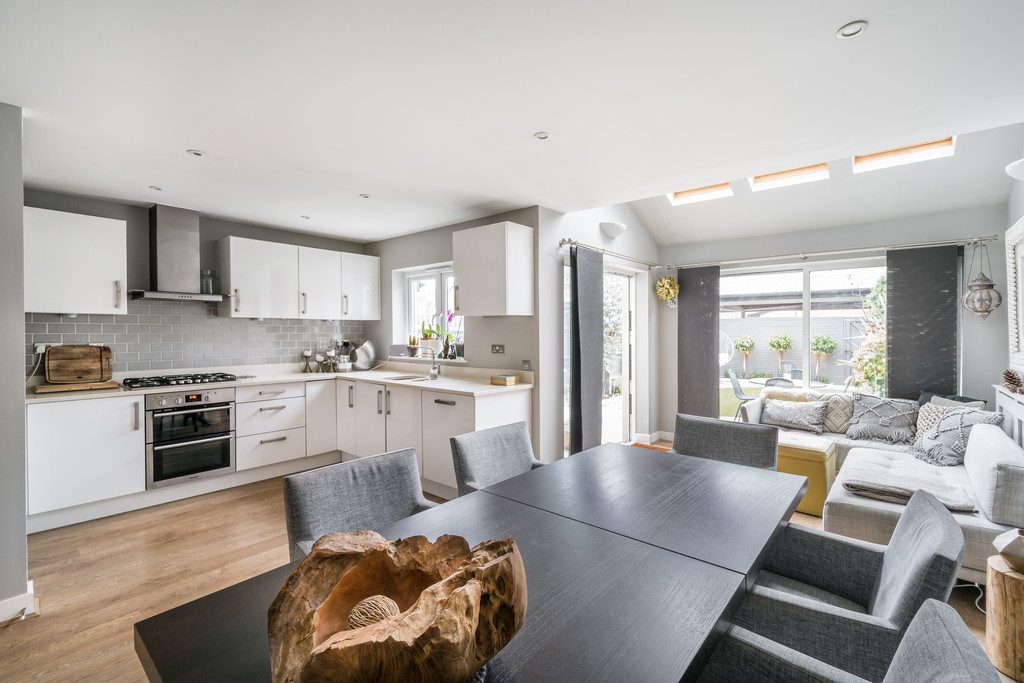 The sofa (from Heals) with the Nordic-Bohemian woven textural cushions are my favourite right now and are very much influencing my ever changing interiors.The walls are painted with Mylands paint, Chambers Gate  (its a very tough paint that is extremely hardwearing and can be painted on a variety of surfaces.) The large Indian mirror was bought at a Antique flea market. The hanging soft pink glass and silver lantern were from my travels in the Middle East  and the cushions are sourced from may different companies, example: Bloomingville, La Redoute, a wonderful independent shop Freyr & Fell and Voyage Maison sequinned cushion for that bit of glamour.
Many of us are so busy… and need someone like you in our life, how can we contact you to design and style our homes or a room! 
I would love to hear from your readers – I offer an Interior Design service, and made to order bespoke cushions, headboards & upholstery. Please contact me via
If you have fallen in love with the gorgeous house, please contact our
Reigate & Redhill Team
on 01737 888220 to book a viewing.