Eating isn't a new concept. We all know about eating, we're lucky enough to do it every day! It's second nature to us, right? Well, I thought that for a long while too. There's more to eating than abating the feeling of hunger. Food means different things all around the world. Let me bring you on a short journey.
I was very fortunate in a previous career. I worked abroad frequently. I found myself in North Africa, South America, Asia, and all over Europe. I would drag our team to a local restaurant or ask to eat and drink with our local colleagues rather than stay in for another club sandwich and generic beer at the hotel. We ate great, great things. Tenderloin and Malbec in Buenos Aires, Tagine in Marrakech, Tacos and Tequila in Mexico City, Pork Knuckles and white beer in Vienna. I was very fortunate and food was what I was into. The experience as much as the taste. The amount of great conversations had, and bonds made over food was unreal. Food was something of an equaliser. A team from all over the world, who had eaten together the night before seemed to gel better and work stronger the following day. I loved that.
Fast forward some years. I moved on from that career in graphics to focus on my Photography. I live in Greenwich now, home to giant round tents, replica boats turned into overpriced museums and overcrowded markets. The very market which has kept me ticking over on the food front. There's always a new stall popping up selling something I've not seen or heard of before. I'm also lucky to have a farmers market near me on Saturdays which has local produce and extravagantly decorated food trucks that visit. My window to all that amazing street food, right there on my doorstop, every weekend.
London was seeing a drive of new social eating and drinking experiences popping up. Incredible food trucks, evening street food markets like Street Feast and KERB. Not forgetting the forward thinking Boxpark Shoreditch. A site formed of shipping containers which housed, in the early days, anything from restaurants and fast food, to clothing retailers, experiential marketing and I believe, even hot – desking offices.
It's Boxpark who are the reason for this blog quite frankly. Croydon was chosen by them to open up a second site, and I'm very lucky that it's in one of the regions that Move Revolution cover. So, it's only right that some of our food loving staff pay them a visit, Isn't it?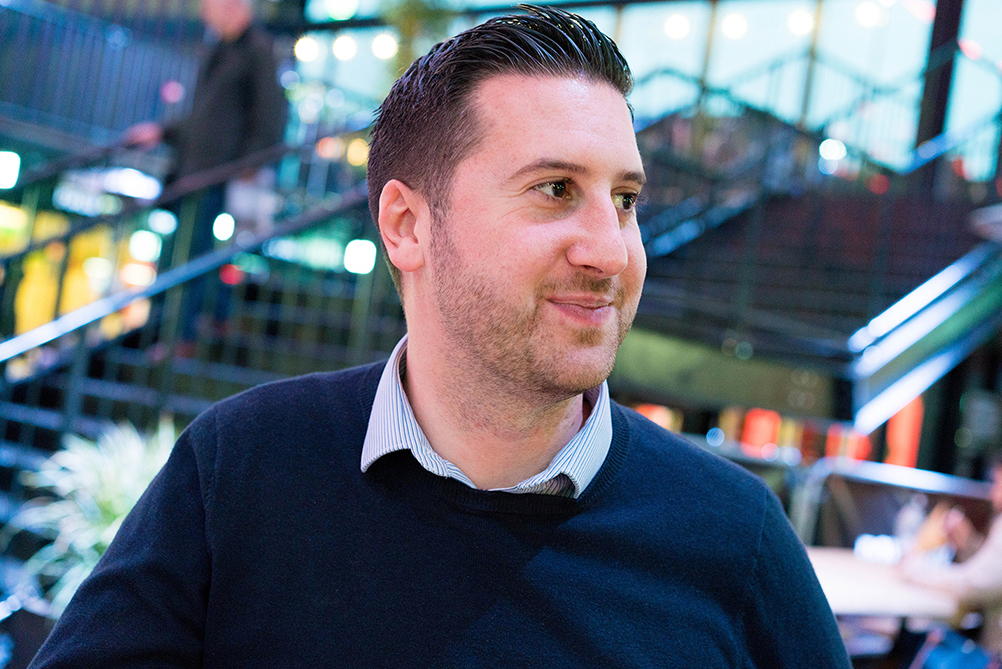 One late afternoon, I invited Paul and Ryan, our Caribbean food loving Croydon team, up to Boxpark to meet Jack and myself. The venue itself sits directly adjacent to East Croydon station. So entirely accessible by anyone not familiar with their way around town. It's also perfect for people meeting up after work for a bite to eat, or a drink before heading back home. I can imagine the place is popular with the lunchtime crowd too. With so many vendors offering a huge variety of foods, you shouldn't ever get bored!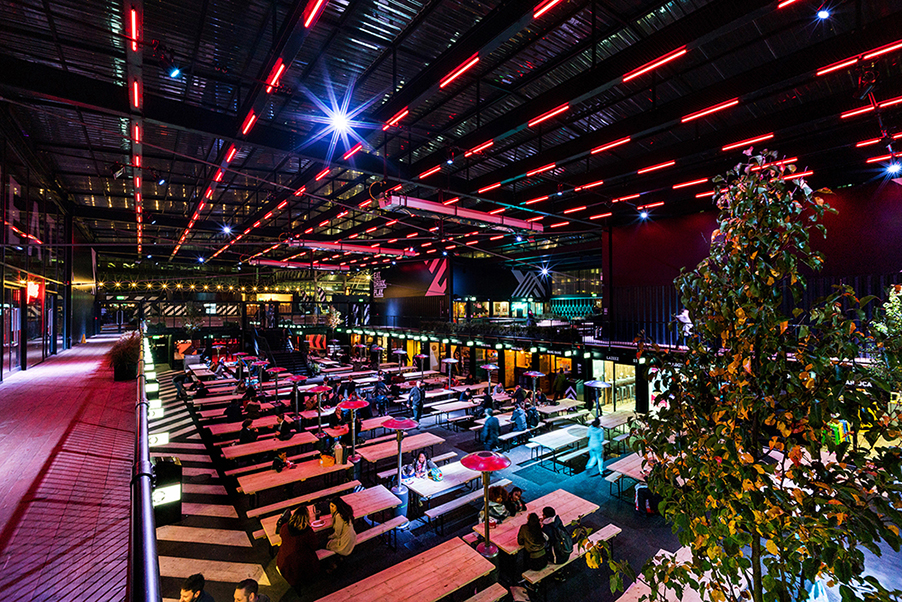 Once we'd all met up, we had a quick look around to take in the view. It's quite the spectacle actually. With the industrial harshness of the shipping containers, softened and modernised with the sleek black paint, wood planked upper level gangways and atmospheric neon and spot lighting, the place comes into its own as the sun goes down. The frontage of each vendor emitting a welcoming glow. And, welcoming is exactly what they were! The vendors we spoke to were chatty and enthusiastic about their food. That's a great sign for me.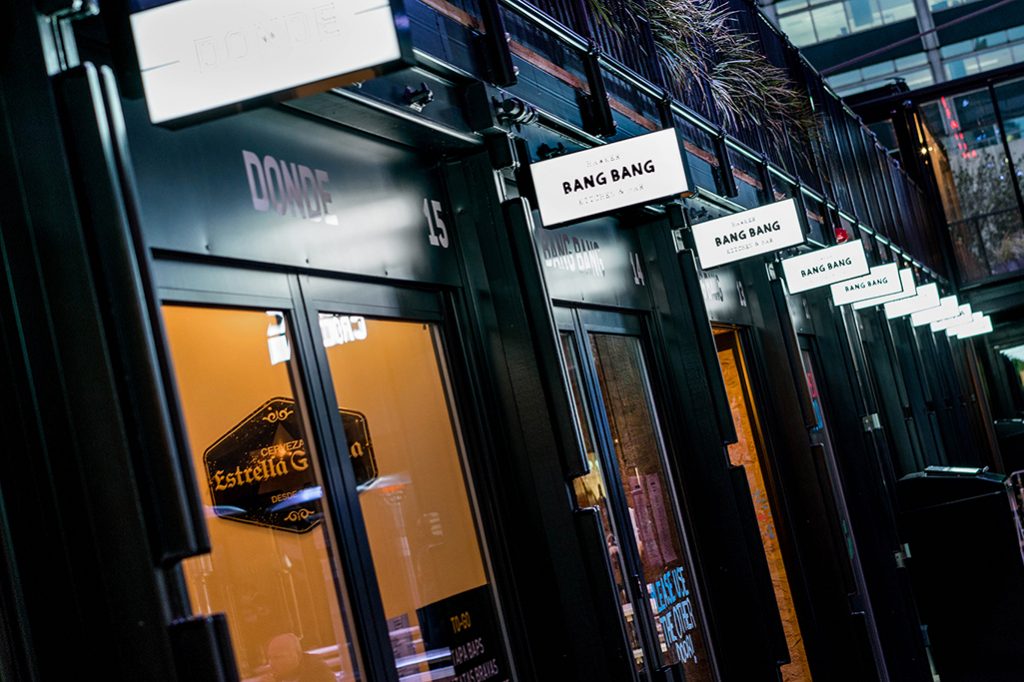 Ryan was first to dive in, he'd found himself a great little place called Fish, Wings & Tings. These folks have a long standing and ridiculously popular outlet in Brixton Village. The team definitely know a thing or two about their Caribbean food, and their following is well earned. Ryan ordered their Reggae Wings which looked so good, that I couldn't help snatching his last one. You can tell the chef here likes to keep things authentic. There's no jarred or mass produced generic jerk sauces being used here. The additional topping of some chopped pineapple added that great contrasting sweetness to go with the heat and sour in the sauce. Perfect, and definitely a welcome addition to not only the Boxpark, but to Croydon itself. Bad, lazily made Jerk chicken will put you off Caribbean food for life.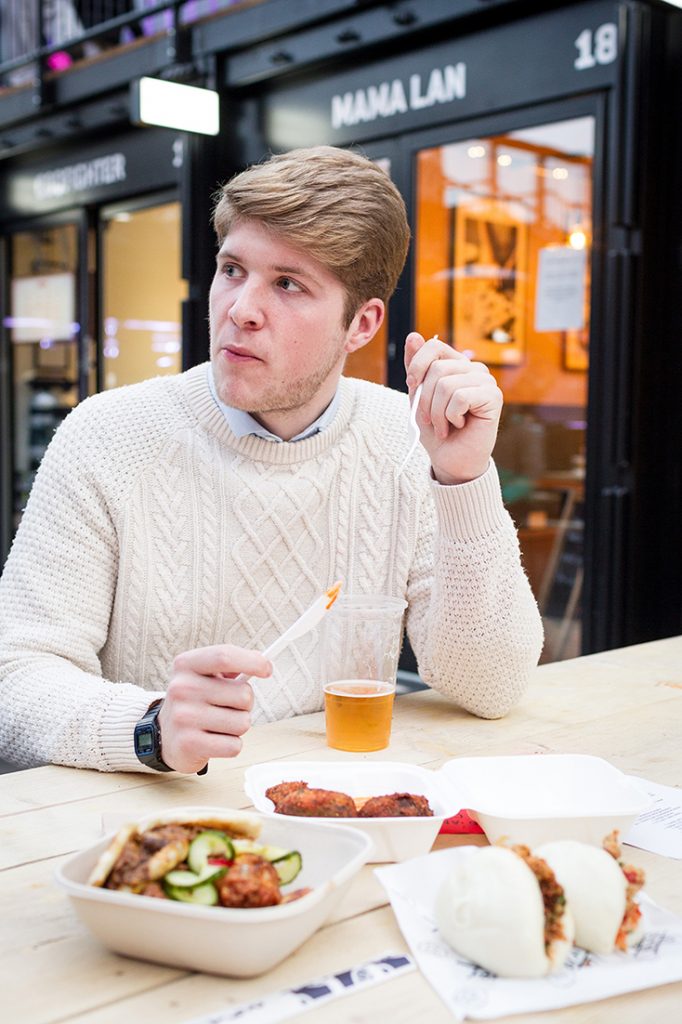 We didn't venture too far next, directly next door was a Beijing Street food kitchen called Mama Lan's
These guys also have a plot in the popular Brixton Village, but can also be found up in East London.
Paul picked out a portion of pulled pork steamed buns. Paul's initial feedback wasn't much more than some satisfied grunts and "oh my god's. That's always a good sign. Eventually he let out that the pork just melted away in his mouth and had made him re-think what good Chinese food even is! This is nothing like your local takeaway.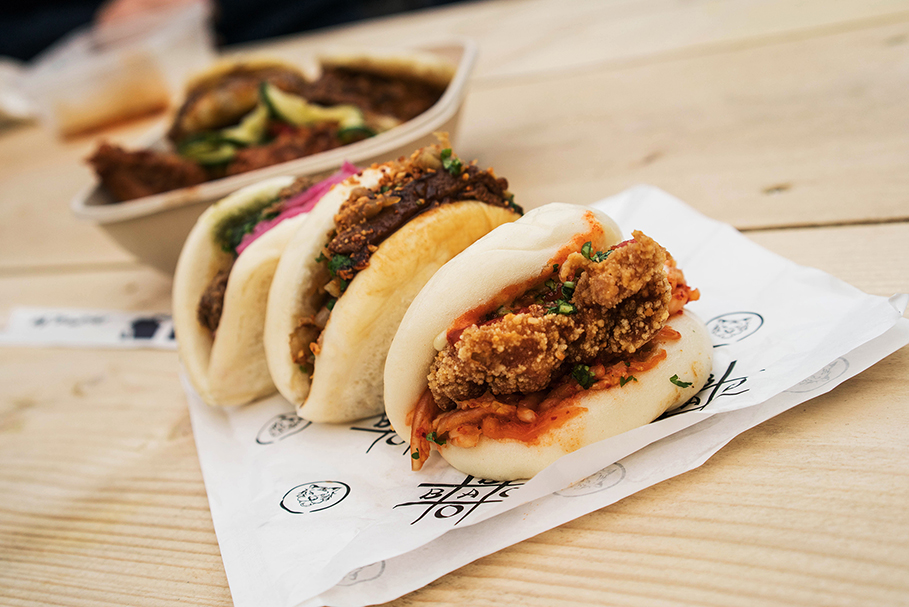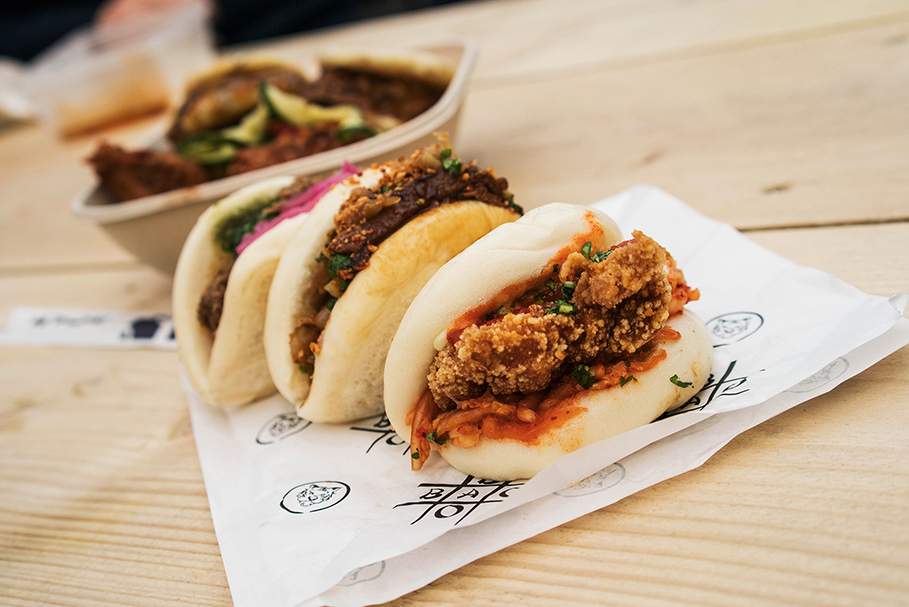 As the evening went on we sampled 3 types of Bao from Bao Bao London. Authentic Taiwanese steamed buns from a very cosy little eatery accessed from the outside of Boxpark. They have a fuller menu inside, but offer the Bao and new trendy Bubble Teas from a takeaway counter near the entrance. Although having never been to Taiwan, I've latched onto these little white pillows of goodness at other street food venues over the years and these ones are definitely up there with the tastiest ones I've had. If you're not familiar with Taiwanese food, then these are a great way in. Ingredients like pork belly, pulled lamb and fried chicken offer enough familiarity, that you'll enjoy the marriage with these eastern flavours and textures. So, so good.
Next stop, Brazil. There's an outlet called Carioca. Ryan couldn't resist the Beef and Mozzarella Croquettes. These were comfort food at its best! Hot, crispy coated slow cooked beef that fell apart in your mouth to reveal a melted core of the famous soft cheese. Unreal. Carioca are another successful trader from Brixton. It's always been the place to go, to sample Brazilian food outside of the typical BBQ places that pop up in chains around town. Warming Feijoada and Caipira are two must tries if you're after a heartier meal. Don't forget to grab a Caipirinha to finish off the experience.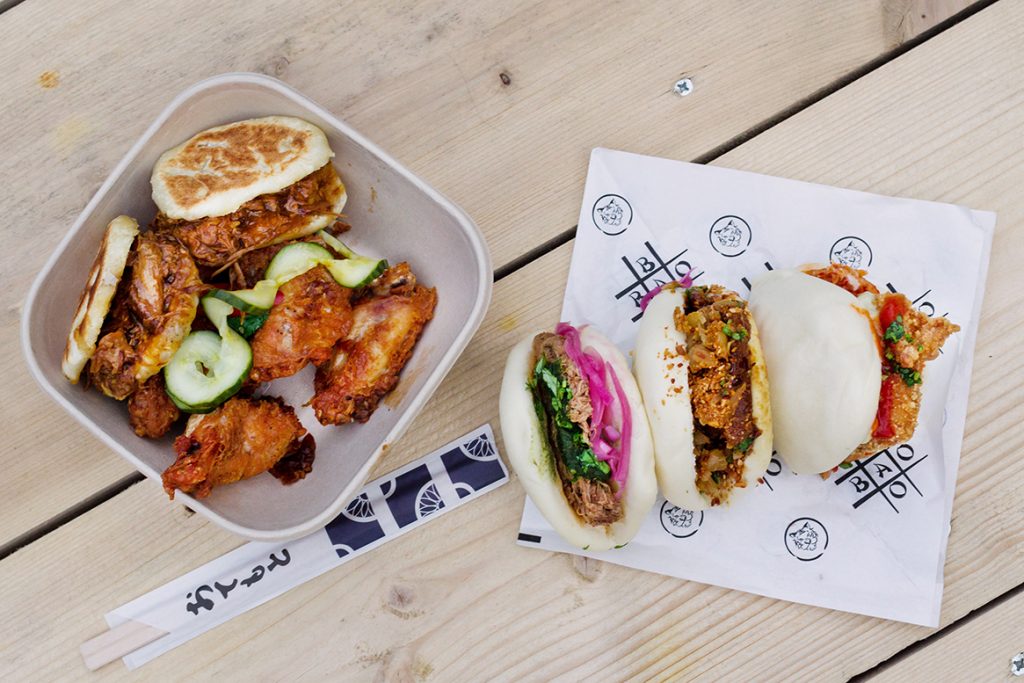 I'd heard and seen a fair bit on social media about the guys at Coqfighter, even before we visited. So even though my already full stomach was putting up some resistance, I just HAD to try their Korean fried chicken burger. No mistakes were made. This was hands down, the best chicken burger I'd ever eaten. I'd even rate it up there in the top handful of burgers I'd ever eaten! Succulent chicken thigh meat in the crispiest Panko coating I've come across. A great start to any chicken burger already but with their pickled red onion, Sambal mayo and Korean hot sauce, this was the ultimate combination. If it wasn't for their other enticing items on the menu, I'd be straight back for another! The guys at Coqfighter definitely have the right mindset for this type of eating. The whole menu is geared up for casual eating and they offer a small but eclectic selection of craft beers. If I wasn't driving, I'd have happily plotted up for the evening.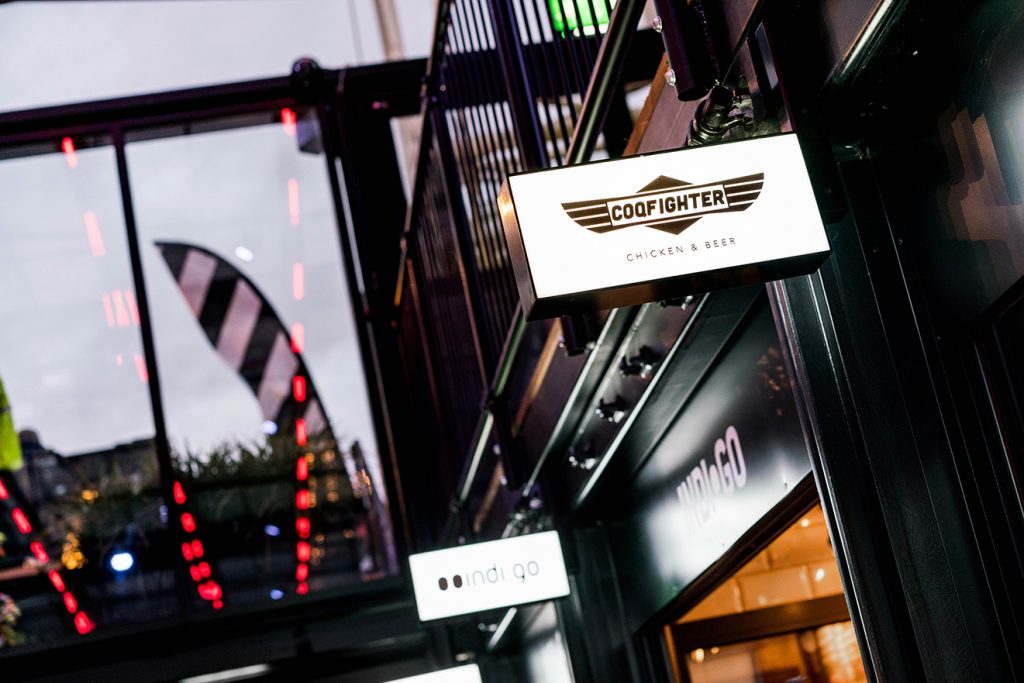 Somehow, and I think the incredible choice and magnetic attraction of each of the frontages is to blame, we still wanted more. Something sweet is what we fancied. To be honest these next purchases were almost made with guilt in mind. Our impulsive trip out for food disrupted lots of dinner plans with family and partners. So, what better way to apologise than to bring home doughnuts and cronuts from Dum Dum's Donutterie! I swung by the place twice during our visit. Once to buy some of the delectables and once more because I was so caught up with staring at the bulging pastry circles from heaven, that I forgot to even take any photographs! Luckily Jack was on hand to keep his wits about him and keep snapping away.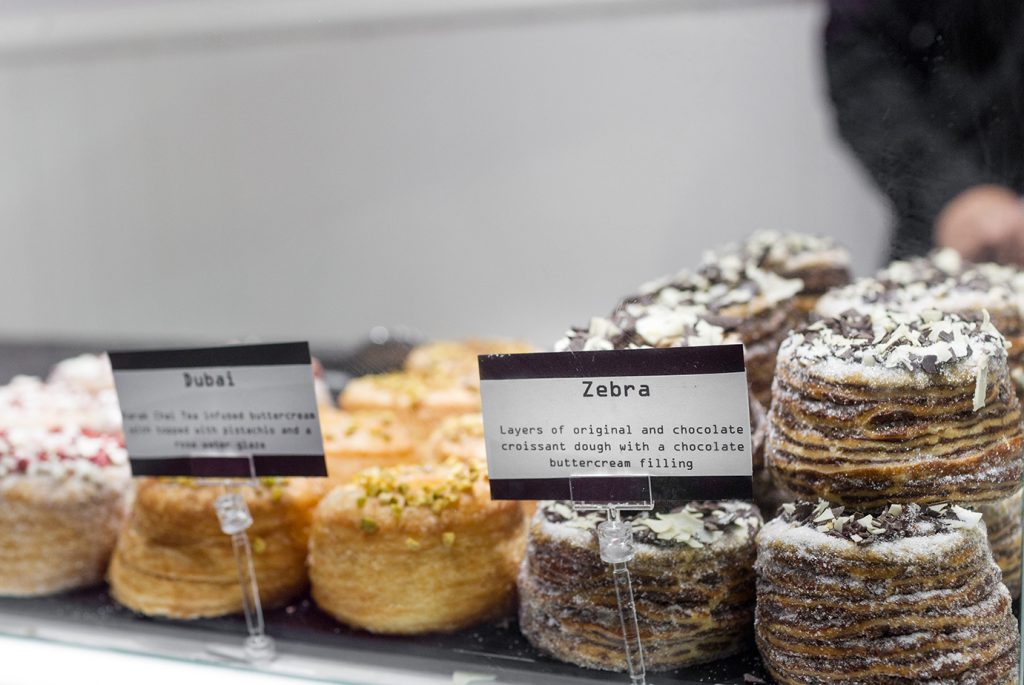 I've been given strict instructions from colleagues and my partner to never to visit BoxPark again. That is, without bringing them with me, or without bringing back all the food!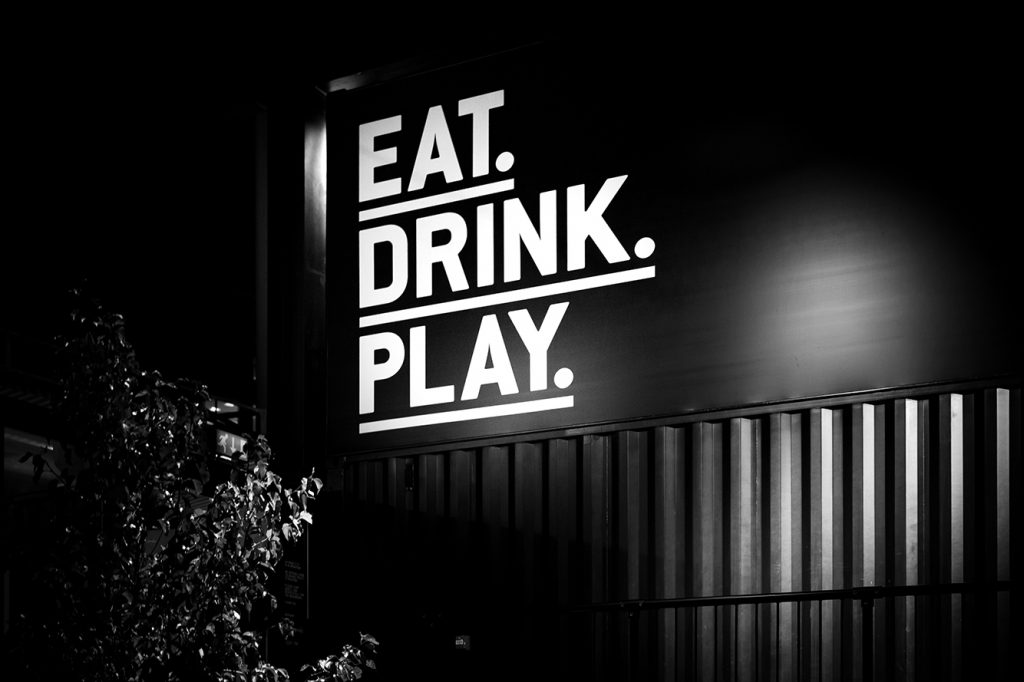 If you're in the area, or thinking of moving to the area. BoxPark is a gift, and one which you should take full advantage of. It's a perfect socialising alternative to the pubs and bars that, if you're like me, are growing a little weary of. It's also, in its own right, an amazing place to try for lunch or dinner with friends or partners. What's that? What about breakfast you say? Well sure! If you've time to spare before heading off from East Croydon station and you want to stop for a little breakfast, or a lazy brunch at the weekend, did I mention that BoxPark is also home to a branch of the famous Breakfast Club? Like its sister venues, this one is decked out like the warehouse apartment you always wanted. With a cool, buzzy vibe. They do great hot drinks and all the brunch favourites, but done very, very well.
You literally have no excuses not to go. See you there!
For those of you thinking of selling or letting your home in the Croydon area, please get in touch with our team: 0208 819 3272
Our other offices
REDHILL & REIGATE: 01737 888220
CATERHAM & OXTED: 01883 708388
LINGFIELD & EAST GRINSTEAD: 01342 888450
CRAWLEY & HORSHAM: 01293 127620
HAYWARDS HEATH & BURGESS HILL: 01444 657657
SEVENOAKS AND TONBRIDGE 01732 617617
TUNBRIDGE WELLS 01892 300600
BRIGHTON 01273 921500