Do you usually decorate your front door for Christmas? Our Marketing Director Nicola Jordan is an old hand at creating wonderful wreaths for her cottage front door, whereas some of the rest of us would best be termed "enthusiastic amateurs!". We caught up with the brilliant Renée Canter who's developed her own style of beautiful wreaths, having completed a self set challenge to have a decoration on her door for the entire year! This is the latest in our series of Guest Blogs:
Wreaths are one of our most loved Christmas decorations that are traditionally hung on our front doors over the festive period.  The evergreen rings are made of branches, leaves, berries and cones but can be decorated with almost anything.
The word wreath comes from the old English word writha which means something coiled, twisted or wound.
The history of wreaths though is vague. One theory claims that the wreath dates back to ancient Greece and Rome, where wreaths using leaves, twigs, fruits and flowers were worn as headdresses or hung on doors to represent rank and status.  Another theory on the wreath's history claims the origin can actually be found about 1,000 B.C. Those celebrating the solstice made evergreen wreaths as a sign of perseverance through harsh winters and hope in a coming spring. The wreaths included four candles representing the elements of earth, wind, fire and water, and were typically used in rituals that would ensure the continuance of the circle of life.  By the 16th century, German Christians had adopted these pagan symbols to celebrate Advent.  A traditional Advent wreath consisted of four candles in a circle of evergreens with a fifth candle in the middle that was lit on Christmas Eve.
My wreath tradition started when I bought my 1st house and I bought an artificial wreath that I decorated with fake berries and decorations every year.
3 years ago I was gardening in November and pruning a yew tree that was very overgrown.  The clippings were not only beautiful but smelt amazing and I thought it was a shame to throw it all away so I decided to make my own wreath.  I took it home and gathered some other evergreen foliage (Conifer, Sweet Box) from my garden and some Eucalyptus from a bunch of flowers I had indoors to make my very 1st evergreen wreath.  It lasted well into January and although all green had a variety of textures, colours and scents.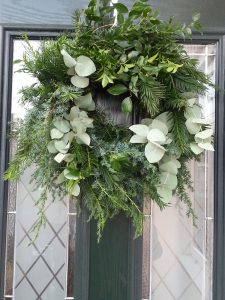 The next year I decided to create another wreath and this time I went a bit more colourful.  I'm not a trained florist but using a round ring oasis I again looked around my garden and local hedgerows to find anything I liked the look of.  I found Holly, Ivy, Bottlebrush and Star Jasmine for the greenery.  I then found seedheads from Ivy and Japanese Anemones and creamy flowers from Honeysuckle.  It resulted in a completely different wreath, much more whimsical than the previous year and definitely less traditional.
I also at this point decided that for me the word wreath had funereal connotations and was not the joyful word I wanted to describe something I had created that made me smile.  I just so happen to live in a road with a pub called The Garland at the end!  So I decided to call my wreaths Garlands!!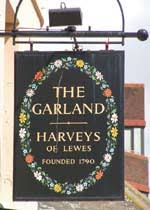 Making Your Own Garland
Most garlands are made on a twisted willow frame or on an oasis.  Personally I find an oasis easier to handle.  Choose greenery you like from your garden or forage sensibly for wild plants.
Most traditional garlands will have pine or conifer as the base and start with the greenery first adding layer and layer of foliage to cover the base.  Then have fun with adding your own decorations.  Natural choices could be Holly berries or Ivy seedheads or pinecones but it could also be dried flowers, feathers, herbs, fresh or dried fruit or brussell sprouts!  You could decide to bling your wreath up with cinnamon sticks, ribbons, baubles or even fairy lights!  It really could be anything but it will definitely be unique.
Whatever you choose hang your garland on your front door, enjoy the joy it brings you when you arrive home and accept the compliments from your guests with a smile.
Thanks Renée!
Renée is also known as The Girl who Gardens.  She provides planting and garden design advice and aims to make dream gardens a reality for families in Surrey and the surrounding areas.  This December she is delivering Garland Workshops and is for the first time selling her unique Garlands at The Crafters Market in Reigate on 3rd December. You can get more information on her website or follow her on social media. Facebook:  thegirlwhogardens Instagram: the_girl_who_gardens
If you're thinking of moving, give the team a call on 0330 223 1000, or fill in the valuation form.