Driving to any valuation is always exciting. Meeting new people. The intrigue of seeing inside wonderful homes. For those of you who love looking at property details… I have the pleasure of doing this for my job!
Prior to any meeting there is always a considerable amount of time invested in researching the property, looking at comparables (exact sale prices in the local and wider area of similar properties) analysing movement in the exact area, as well as detailed conversations prior to the meeting which give 'a feeling' for the property. Nothing is quite like the feeling of seeing a house 'in the flesh' and stepping inside the front door fully prepared. One of the reasons I love working in property is the 'unexpected' – meeting wonderful people, with fabulous stories, gaining an understanding about them as well as an in-depth understanding about the property they are selling, and the next house of their dreams!
Meeting Elena has been wonderful. From the moment she opened her front door, and I stepped into her beautiful home, it was clear she has an eye for design, a deep love of interiors, and knew exactly how to 'show off' her home to perfection… I couldn't wait for our professional photographers to capture exactly what I could see. Elena's passion for interiors isn't just a hobby, it is in fact her job! I immediately asked her if she would be happy sharing her love for furniture design with our readers and she jumped at the opportunity. I would like to introduce you to Elena Paparozzi, her incredible designs and her beautiful home. If you are thinking of moving and looking for a wonderful house please call me on 01737 888220 to find out more, showing you around Old Redstone Drive will be an absolute pleasure.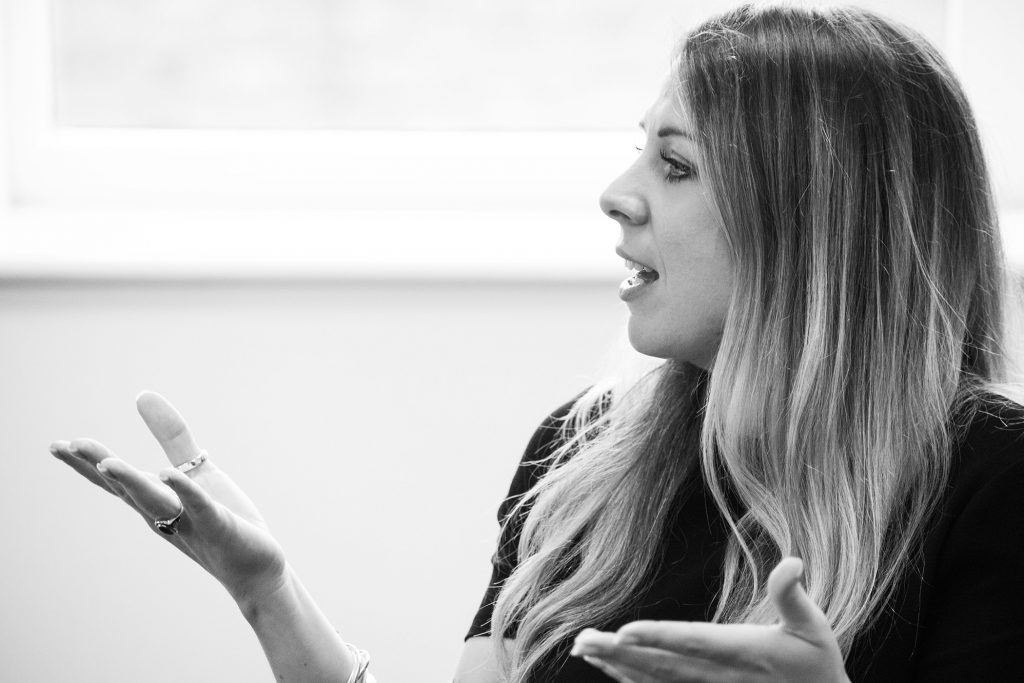 Louise Simpson, Area Sales Manager Move Revolution HQ Nutfield, Surrey
Introducing Elena.
Elena Paparozzi, 32, Senior Buyer and Designer for Heal's. I've worked in retail and interiors for the last ten years, for John Lewis, House of Fraser and now Heal's, across Furniture and Lighting categories, creating beautiful pieces for the home. My specialism, and passion, is furniture and my job has taken me all over the world – from Italy, to Vietnam, to Japan, to India- it's an incredibly interesting job which certainly keeps me on my toes! I also get to meet wonderful and very talented people who work to bring my vision to life. One of the perks of my job is the access to samples, and friends around the world who can build bespoke pieces for our home, and here are a few of these items which I've collated along the way to share with you.
Remi (Walnut and Black Marble) (on sale at Heals now)
The Remi collection is one of my all-time favourite things I've worked on; it's a beautiful storage collection featuring solid walnut fronts and incredibly beautiful marble tops- I just love the heavy white veins which add real character. The detail of the slat on the curved unit plays into recent trend for refined detailing in homewares and each piece offers useful storage solutions for the contemporary home. Beautifully made in solid materials, Remi is a true design statement which'll last a lifetime and will certainly come with us wherever we move to next.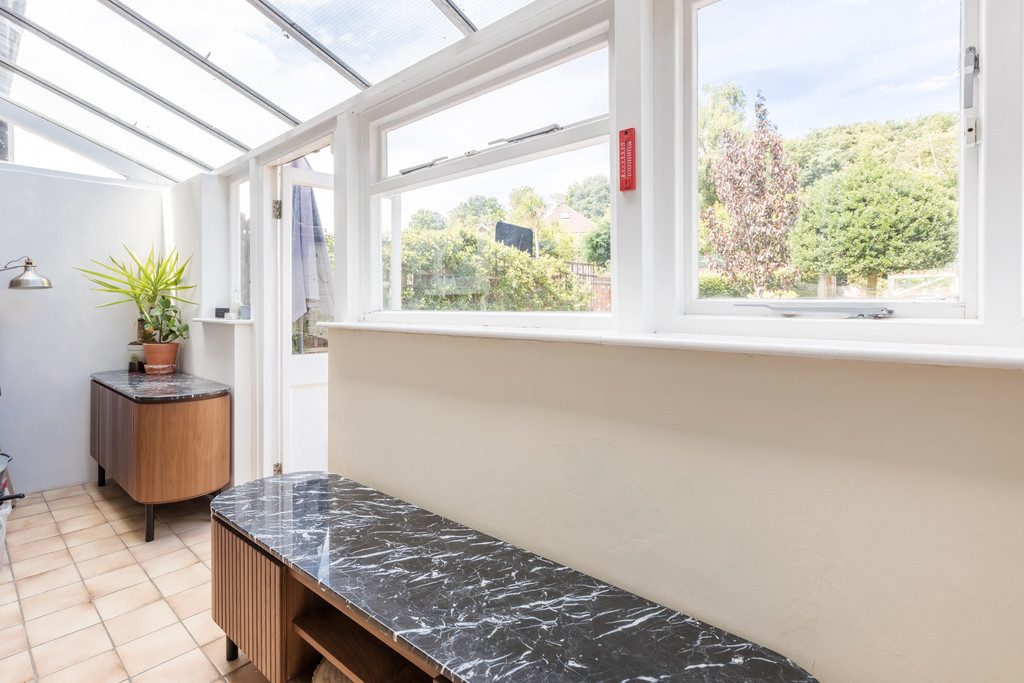 Casey (TV cabinet, Coffee table and shelving)
I designed the Casey collection a few years ago but to me, it still feels so relevant today. Made of mango wood in a soft grey finish, paired with brass legs and metal detailing, it's softly industrial yet completely liveable. I love the duel-layer coffee table; perfect for coffee table magazines, whilst the shelving unit has been the perfect backdrop for recent working from home "shelfies!". I particularly like the soft edges which make the units feel cosy, whilst the parquet design adds a lovely texture and warmth to the wood which have helped us create a calm and truly inviting living space. The TV unit was originally designed as a hallway piece however the slim proportions and slightly taller height make it the perfect fit for the alcoves in any 1930-1940's home like ours.
Grange (Dining table and bench)
Grange is the ultimate farmhouse table; crafted from solid oak, it's truly a piece to last a lifetime. Cooking and entertaining is really important to Ed and I, and therefore having a large table was a must-have. We actually arranged our second viewing of the house when we bought it purely to check the table would fit in the dining room! I love the chunky cross leg, and crafted peg detail which makes it feel really authentic, and I paired this with the bench- a really practical seating option which doubles as a great space saving solution. Ed's mum even upholstered the bench seat pad for us which was a lovely finishing touch.
Austen (Dining chair) (on sale at Heals now)
Austen is the ultimate dining chair; of course, I love the pieces I've worked on but Austen really is so comfortable! The elegant curved back profile, and highly padded seat are two key features which make this chair so supportive whilst the neutral cotton fabric sits really well with most interior spaces. I love the fact the sit is a little narrower too which gives a sense of cosiness and comfort. The piece I have at home is a sample but it's also available in a range of punchy coloured velvets (which are incredibly on-trend in interiors right now); perfect for pairing with oak or walnut dining tables.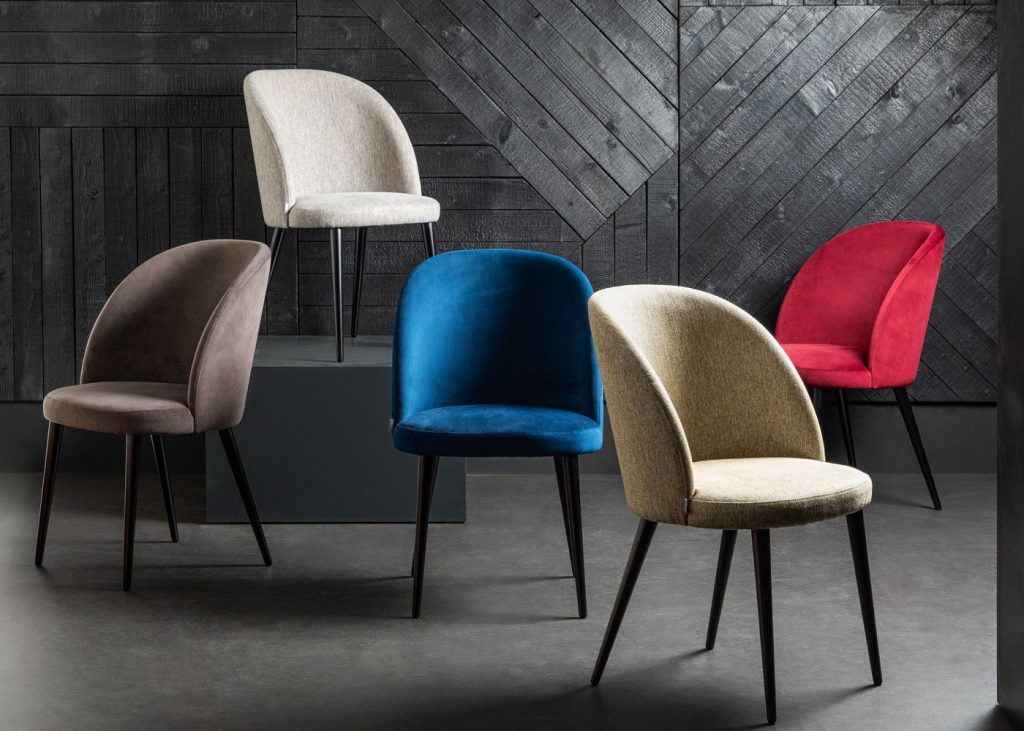 Drinks cabinet
Our lovely drinks cabinet was repurposed out of an old 1950's Jenson mid-century display unit which was left in the house when we moved in. Our first thought when seeing the dark, old fashioned unit was "how on earth are we going to get this out of the house?". But a rainy Sunday afternoon, several pieces of sandpaper and 3 coats of grey paint later, and we've ended up with a feature Drinks Cabinet which we love! It's also incredibly useful storage for all of our dining plates, and serve wear (along with all of the gin and wine glasses, of course!).
Moving into a new home can be incredibly expensive so we thought why not at least give an up-cycle project a go, as we really had nothing to lose. The unit is made of stained oak, so we had to strip it back and prime the whole unit before moving onto paint. We opted for a matte finish to keep it modern, and paired it with an art-deco wallpaper which we fitted as the backdrop to add a metallic touch. We stripped out the fussy glass shelving and trad strip lights, and the final product is a feature cabinet which we're so pleased to call our own. Moving onto our next home, we recognise the importance of stylish storage so we absolutely want to take this with us. Who'd have thought four years on, we're now back to the original question of "how on earth are we going to get this out of the house!" but this time, for all the right reasons!
Dressing table
This statement dressing table is the perfect fit for the bedroom alcove, and the generous oval mirror is perfect for getting ready. The unit is made from solid oak and pairs really nicely with the more serene feel we'd went for in the bedroom. I integrated a small drawer which is perfect for tucking away jewellery, whilst there's plenty of space on the top of the unit for makeup and perfume
Would you like to find out more about this beautiful home? Call Louise Simpson on 01737 888220. Why not book a valuation at the same time!