Are you looking for an outdoor place to have a swim or some water fun with the children? Have they outgrown the paddling pool or is it looking a little sad, a bit greasy from their factor 50 suncream, or are you fearful for the enormous patch of dead grass underneath it? Fear not, we have some great suggestions from around Surrey, Sussex and Kent!
We have been following the refurbishment of the stunning Saltdean Lido, which is wonderful and has just opened which is perfect timing with this hot weather. Also down towards the coast is the great Pells Pool in Lewes, which is very popular, so much so, they've closed off their season passes this year so they're seeing unprecedented demand! Don't worry though, you can still go and spend time there!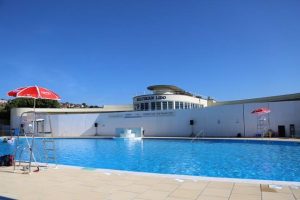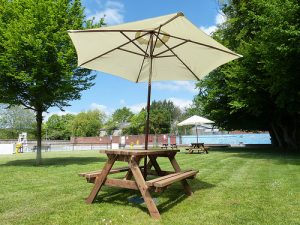 The lido at Guildford is a safe bet for guaranteed fun, but it's always advisable to get there early as it does get very busy.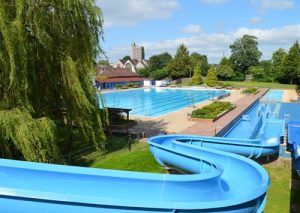 Pavilions in the Park in Horsham is fabulous as it delivers on inside and outside swimming exploits! We especially love the lazy river.
There are some fabulous heated (YES really – special treat for those of us who get chilly easily!) pools near the River Arun in Arundel with great views of the castle. Enjoy the 25m main pool or play with the little ones in the large heated paddling area. There are picnic areas, a café and shop.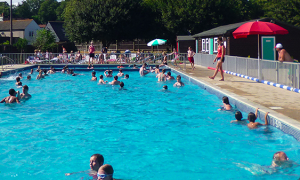 At Burgess Hill there is the Triangle complex which as well as an indoor complex with shoots, rapids and various pools, there's a large outdoor pool, plus a rapids channel going inside and out again. Great fun!
We've spent some fabulous hours with our little ones at the paddling pool next to Hove Lagoon, and can easily spend the whole day here with a picnic. If you're down that way, you can also find water play at The Level and Kings Road.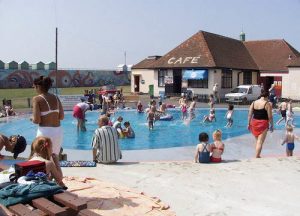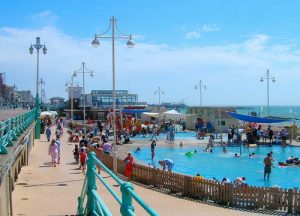 Heading west to Splashpoint in Worthing, you will find plenty of indoor swimming, but also an outdoor paddling pool with sun terrace. The added bonus is the view out to sea!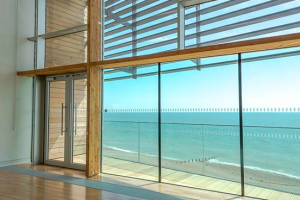 Frensham Great Pond is a beautiful natural environment, offering a great lake for splashing around in complete with it's own beach. There isn't much shade so take a shade tent with you if you've got little ones. Also keep in touch with the website to check water quality as it can be affected by rainfall. As long as the boxes are ticked, it's a fantastic place to spend the day.
If you're closer to Croydon, check out Tooting Bec lido. It's the largest freshwater pool in the country and has a very welcoming atmosphere. There's also a paddling pool for the children.
Across in Kent there are indoor pools at Tonbridge, along with a heated outdoor pool with swim channel to and from the indoor pools. It's popular and operates a band system for busy days.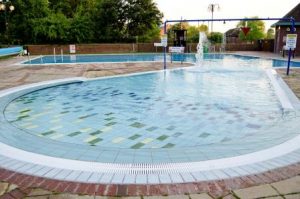 If you're feeling a bit more serious about your swimming or have young adults in your family who are, Divers Cove at Godstone could be the place. It focuses on serious open water swimming and scuba diving. Alternatively, it's just a beautiful location for a breakfast at their cafe, followed by a dog walk! Perhaps not one to take small children to, but if you get some time to yourself, it's highly recommended.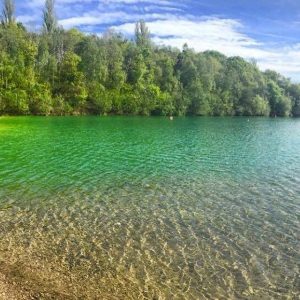 So we know this isn't an exhaustive list, can you tell us where your favourite outdoor swimming or splashing locations are? Please share!
We hope you enjoyed reading this blog, and would love to hear from you. If you're thinking of selling your home, please call the team on 0330 223 1000.
This blog claims no credit for any images posted on this site unless otherwise noted. Images on this blog are copyright to its respectful owners. If there is an image appearing on this blog that belongs to you and do not wish for it appear on this site, please E-mail with a link to said image and it will be promptly removed.