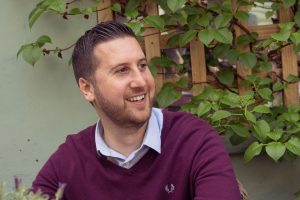 Our latest blog in our series about our brilliant Area Sales Managers, and we've arrived in our Purley area and Paul Mulligan. He was born locally, went to Primary School in Sanderstead and Secondary School in Purley so spent most of his early life in the area. His family are still in the Purley area now. Paul has moved further afield but still regularly walks on Riddlesdown Common.
A funny story about Paul from his teens is that he had a part time job in a DIY shop whilst he was studying at college. He is renowned for being the least handy person you could ever meet, so it's no surprise to hear that the shop closed down! It gave him a great start with understanding the importance of customer service though. He moved on to managing a music store selling CDs and DVDs whilst he decided what he really wanted to do and chose estate agency because he wanted a job where no two days were the same, a varied role, one that was customer facing and where he wasn't confined to an office all day.
Paul has now been an Estate Agent for over ten years and worked for two high street agencies, progressing from trainee to Branch Manager prior to joining us at Move Revolution in January 2015. He joined us as he could see market trends changing, the way in which people bought and sold was changing, and he wanted to be part of a more forward thinking company. Also, the challenge of opening up an office in his home town was something he relished.
In keeping with his heritage, Paul is a huge Crystal Palace fan and been a season ticket holder for over 20 years. He looks forward to the day when he takes his son (currently a toddler) along with him to take in the atmosphere and cheer the boys on.
He enjoys hanging out with friends at Boxpark, where his favourite things  are the Chicken Burger at Coqfighter and great cocktails in Yumn Brasserie. He also loves the tapas at Galacia and Las Fuentes.
He's a lover of period property but likes a modern, contemporary interior whilst still retaining some original features, just like this one that we've just advertised for sale on Shirley Hills Road:
Paul receives consistently outstanding raterAgent reviews click here to have a read!
If you're interested in this home, or are thinking of selling or letting yours in the Purley area  do call Paul on 0208 819 3272.