This is the latest in our summer blogs, aimed to fill you in on our favourite places to go, especially over the holidays. This one is all about the most amazing British food, the mighty fish & chip supper! We had a discussion among us about which ones are the best and obviously we all think our own favourites are the winner… and readers, it was very nearly pickled gherkins at dawn! Who'd have thought it could be such a controversial subject?! Anyway, from beachfront, to simple fish bar to formal dining, what appeals to you?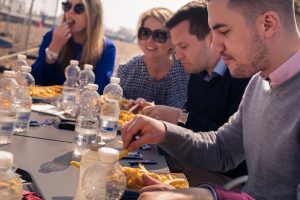 Mathew Gurr, Area Sales Manager, Haywards Heath region
My favourite place is Lees on Queens Road, Haywards Heath, and although you can be at the back of a very long queue on a Friday night, the wait is well worth it! They have been there for years, always happy to see us, great chips, batter is perfect!
Joey Hansen, Senior Negotiator, Brighton region
Although technically, Riddle & Finns is a fine dining fish restaurant rather than a "fish & chip shop", I have to put this forward as my favourite. The food is incredible, and the location under the arches in Brighton with the wine menu put this at the top of the list for me! A must visit on special occasions.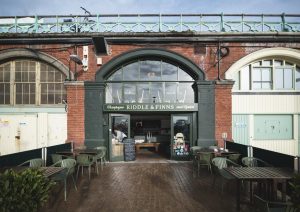 Louise Simpson, Area Sales Manager, Reigate region
Captains Table on The Green at Warlingham is my top favourite, the chips are sheer perfection and the batter is crisp! What's more to love?
Hannah Gunn, Lettings Manager
The best fish and chips are from Harbour Fish Bar for definite! The fish is fresh and cooked to order, and the service is great too.
Sarah Cohen, Sales Progression
We often find ourselves in Shoreham and our favourite thing to do it get fish & chips from Ropetackle and eat them out of the paper on the beach – simple pleasures!
Sarah Sproston, Marketing Manager
I'm renowned for my fish and chip fandom, but I would say my favourite ever is at Ossie's Fish Bar in Whitstable. We love to get our takeaway and take it to the beach with a bottle of wine from "The Offy" – yes, that really is what it's called. Our idea of a perfect evening while watching the sun go down.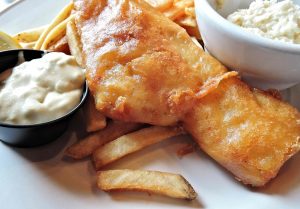 Sam Webb, Land and New Homes Manager
On a day out to Brighton, fish and chips at the Regency is a must. Good old fashioned service with spectacular sea views and always a vibrant atmosphere.
Ben Hosmer, Sales Manager Tunbridge Wells region
Marinos Fish Bar do the best fish and chips in my view, near The Pantiles. Wonderful!
Paul Brice, Director
I have two favourites: Like Hannah above, I rate Harbour Fish Bar in East Grinstead with fresh fish cooked to perfection while you wait. The added bonus that it has a small restaurant section where you can eat in with table service. My other favourite is Lingfield Fish and Chips. Took over from Dave Dove about 5 years ago. Great fish and chips and also fantastic spicy chicken kebabs cooked to order on the grill. Delicious!
Paul Mulligan, Area Sales Manager, Croydon region
I always go to Mcdermott's which is widely regarded as one of the best restaurants in Croydon with great Trip Advisor reviews.
So these are our favourite places, and we feel strongly about them! What are yours?
If you're thinking of selling or letting your home, the team would love to speak to you and you can reach them on 0330 223 1000.