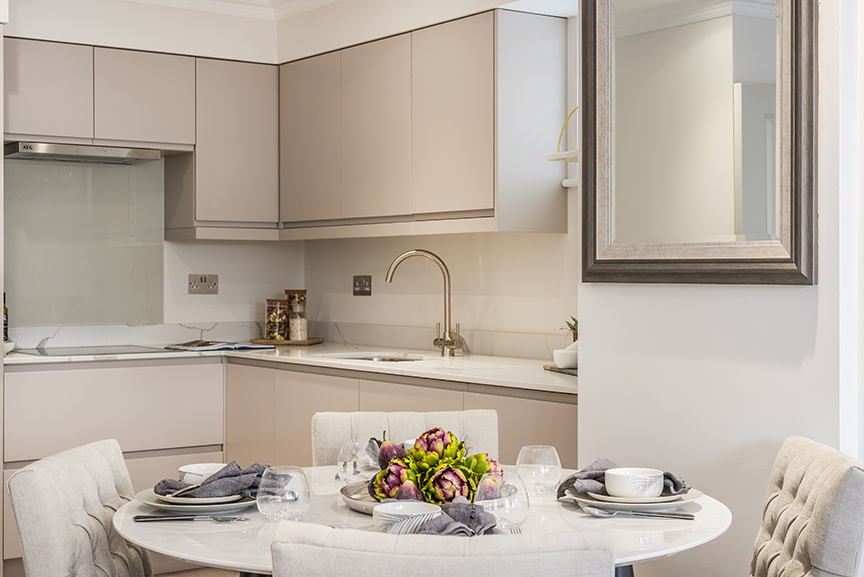 Are you someone looking for 'luxury' in your home? Do you love interior design? Then this is the blog for you!  We have the pleasure of introducing Lisa-Marie Elkadraoui from the award winning, luxury design studio Moska. Lisa-Marie is our guest blogger for this, our Luxury Styling blog.  We met Lisa-Marie through MGM Homes, the developer of the stunning Westview apartments in Whyteleafe, we fully understand why Lisa-Marie has been chosen to style these incredible apartments – both Westview apartments have been individually designed with a luxuriously appointed, open plan kitchen, living and dining room.
Lisa-Marie has a keen eye having developed a meticulous attention to detail during her training within the industry which is evident when you walk around the stunning Westview apartments.  Find out more about her styling, key influences and favourite features at Westview…
How would you describe your styling of Westview?
When we took the project on I automatically had a strong feel of how I wanted to design the space. Our client was really accepting of our views and recommendations and we wanted to give him a property which fused classic styling elements with a contemporary twist. It was important for him that the new build properties where an extension of the converted Georgian house and the feel of the properties had the same lovely flow about them. Due to the prime location of where the apartments sat we wanted to give our buyers the feel that they were getting a stylised luxury high end apartment that you may find in Clapham or Chelsea but doing it within a really realistic and reasonable budget which has been achievable. I ultimately would describe the overall feel as a perfect marriage of classic and contemporary style.  We have gone with a very classic colour palette through our specification and mixed it up with certain contemporary furniture pieces such as the black iron bookcase as well as the wood and glass media unit.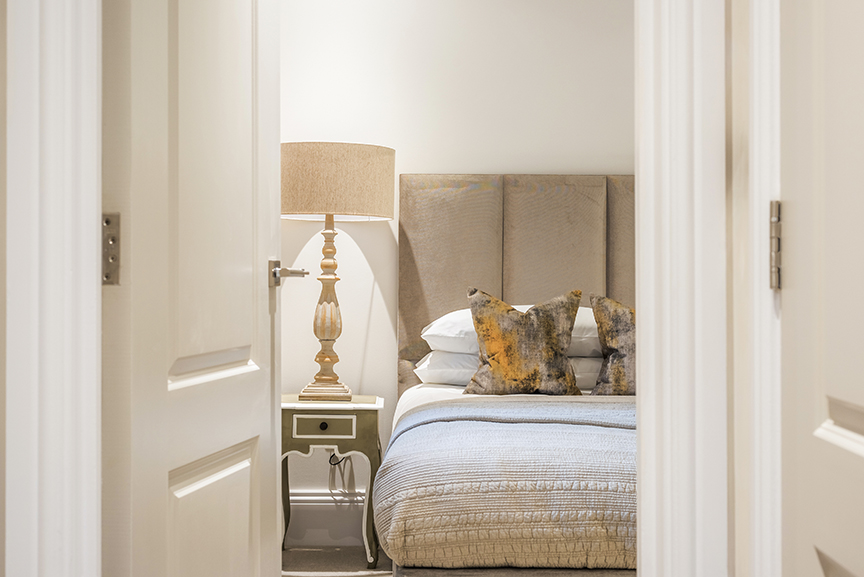 What were your key influences for Westview?
For this particular project I was influenced by several factors, we always take into consideration the area and what we want to achieve at the end of the project  based on our clients brief. I personally really love the beautiful Victorian and Georgian houses across London, the way they look, stand and feel are so inspiring and something so simply as a piece of artwork within or colour palette from a street scene can normally influence a project like this. I also love all seasons, but autumn is one of our favourites, especially the properties at Westview Avenue that where coming to market at the start of autumn became a massive influencing factor on how we finished through our styling with florals and accessories.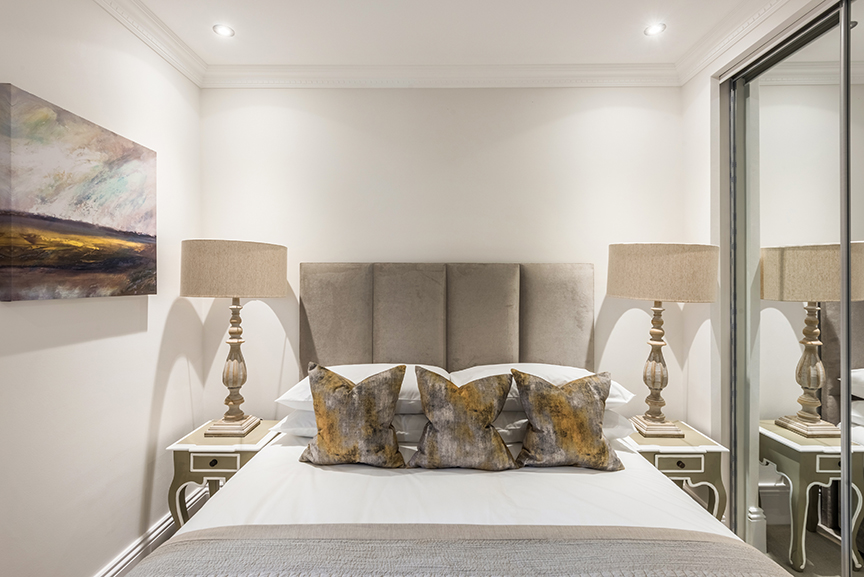 Connecting the two spaces inside and out and how the materials and colour tones blended perfectly too was another contributing key factor as well. Using autumnal burnt Eucalyptus and dark purple hydrangeas automatically gave the property a warmth. We also wanted to take comfort from a really homely, warm yet fresh colour palette and we achieved this through every aspect from the kitchen, flooring, tiling, carpet right down to the colour tones throughout the walls and doors too. This then allowed us to source and hunt for all of the furniture and accessories to ensure each and every piece worked well alongside each other and sat well within the property.
Which is your favourite room?
My favourite space has to be the open plan living area. When we designed how this space needed to work for our client we wanted to set three very clear areas that purchasers can enjoy yet flow freely around, a distinctive kitchen which met the lifestyle of all modern day needs, a dining area for them to enjoy with their friends and family which they can easily entertain in and finishing off with a stunning lounge that has its own area, which is comfortable yet stylish in appearance too. The grand and beautiful bi folding doors also allows the space to grow by inviting the large patio area to be another added extension of the room which gives the buyer the perfect entertaining space all round!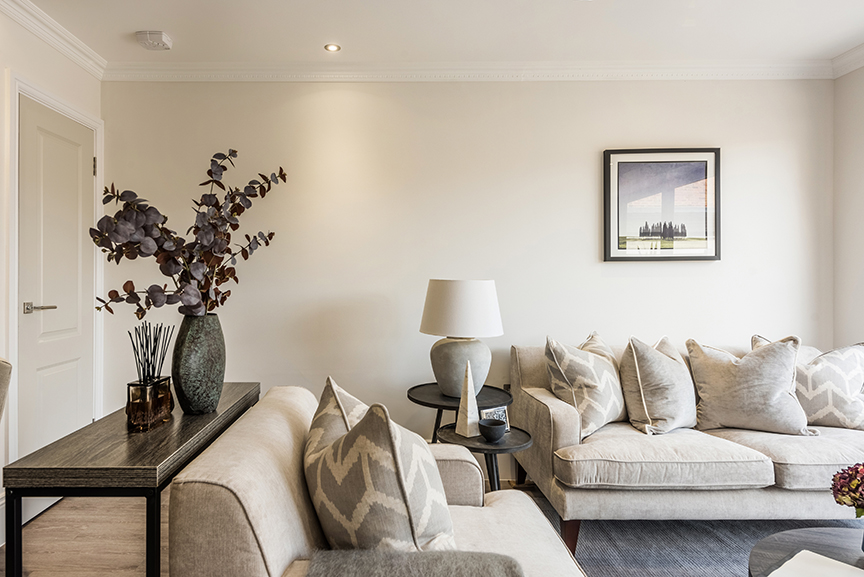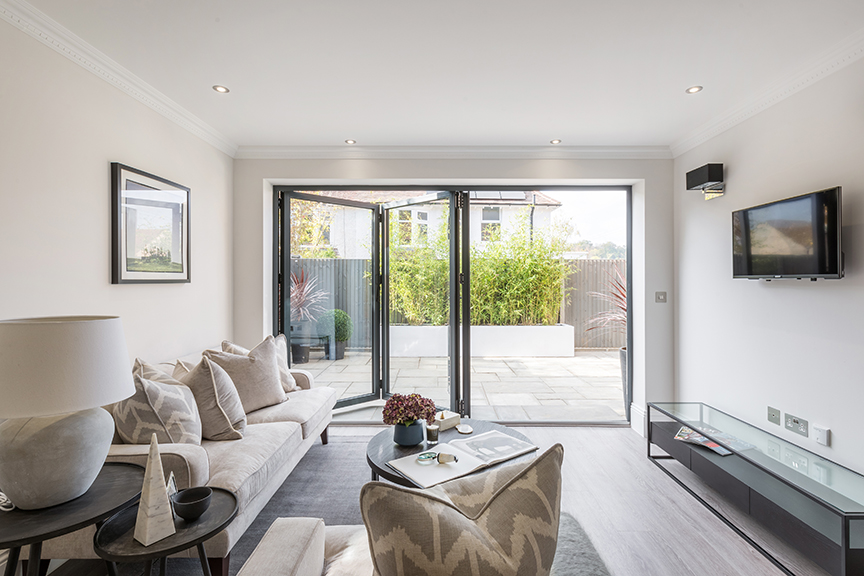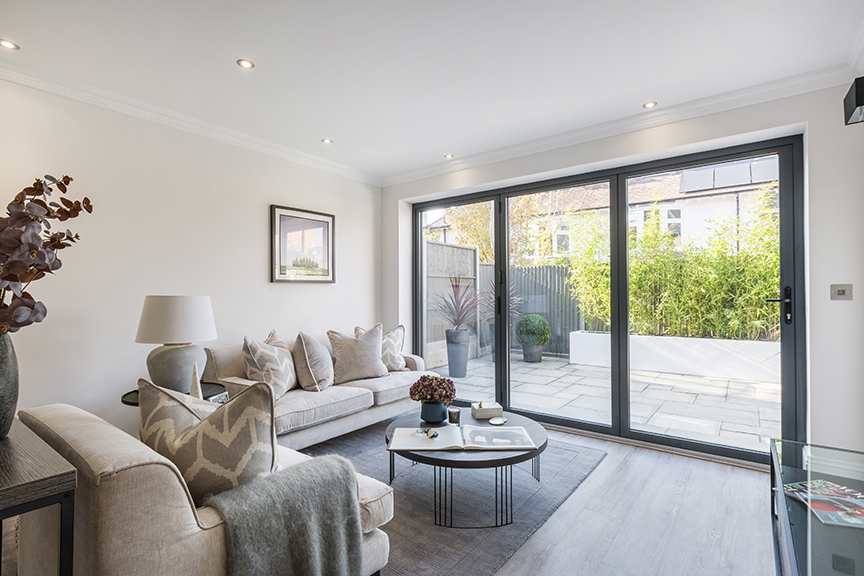 What key pieces really bring your style alive? 
I think it would have to be the bookcase due to all our interesting finds and building up a profile of what our buyer may like to do as well as the dining table. Any dining table comes to life when its styled properly and it's been something we have enjoyed doing for all our of clients for years now. You can show many elements through your styling, We wanted to use a really lovely nude and grey palette which is our all-time favourite mix, sourcing various items that stack, layer and complement each other well can be challenging and timely but it's something we embrace and love to do!
Please read Lisa's 'key pieces' shopping guide – just click here!
We would love to learn a bit more about you and your design background… 
My background initially came from the fashion design world. Prior to getting into Interior Design I graduated as a menswear designer and worked in the fashion industry for a number of years for several big retailers in their design and merchandising departments. I've always been exposed to seasonal yet individual trends, colour palettes, fine eye for detailing, how to compose and fuse fabrics together as well as styling but I knew I had a real passion for Interior Design and home decor, when my husband and I bought our first home together, it was a complete refurbishment, a gut out and re do, something I really got my teeth into and a learning curve at the same time! This is when I wanted to further my interest into Interior Design and go for a career change,  I eventually got to develop my skillset by going back to study in that area as well as work my way up to Lead Interior Designer with a multi award winning luxury property developer in Surrey for many years, before deciding that I wanted to continue my journey and set up my own design studio. It has become a real passion for me , seeing something you design on a piece of paper gradually come to life, whether it's through a build, a refurbishment or a beautiful piece of furniture.
Introducing Westview Apartments, Whyteleafe.
Would you love the opportunity to see Lisa-Maria's style for yourself, as well as seeing the incredible apartments?  You are invited to the launch on Saturday 3rd November, 10am-4pm.  Just call Louise Simpson on 0330 223 1000 to book an appointment and view these stunning apartments for yourself with Help to Buy this is not to be missed!
Book an appoint to view Westview
or call Louise Simpson on 0330 223 1000