What a great time we had in Priory Park, Reigate.  We know how much you love to seeing photographs taken by our very own Move Revolution professional photographers…so we thought we would share our highlights with you.
Reigate School of Ballet & Commercial Dance – Incredible Dance Sessions 
Boogie Time with Boogie Monsters 
Squiggle, Dot & Squeeze's Awesome Farm Craft 
Move Revoution's Mini Farm 
Our Move Revolution Selfie frame #movekids 
Move Revolution and Priory Park Rangers Pond Dipping Fun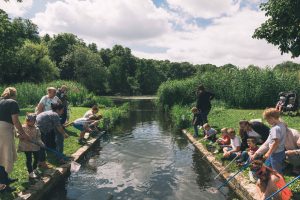 We know you loved all the craft activities – can you imagine our shopping list for the activities?! 
Just to give you an idea it included…  
600 Balloons

 

400 Lolly Sticks

 

2000 Goggly Eyes

 

100 Pair of Scissors

 

500 Paper Plates

 

3000 Feathers

 
 And look what you all made!  
This is just like the biggest birthday party ever with approximately 3000 crafts that have been 'made' during the week.
Our enthusiastic, fun-loving Move Revolution team. 
Everyone you met were Expert Estate Agents, members of our Award Winning Lettings Team, Land & New Home Specialists, Professional Photographers and experienced Marketeers!  We all love what we do and take great pride in our work.. from creating a fun craft, putting on activities which have (hopefully) kept you little ones entertained.. through to how we sell and let houses, and our highly detailed knowledge of land and new homes!  
If you are thinking of moving or letting your home we would love to speak with you just call 0800 0337670. Or, if you're not thinking of moving at the moment please recommend us to friends and family. At Move Revolution we believe in giving back to our local community – and that is exactly what we have done this week! 
If you can't wait until 2018 we will be running The Move Revolution's Kids Active Village at Run Reigate.  Come and say hello to us all Sunday 17th September in Priory Park, Reigate.  As with all our events it will be FREE! Looking forward to seeing you soon!