With the popularity of large kitchen diner extensions, comes the often tricky task of decorating such a large and diverse space to create an area that is truly the heart of the home. Interior Designer Jackie Smith of Homesmiths in Lindfield has kindly put her thoughts to paper for us: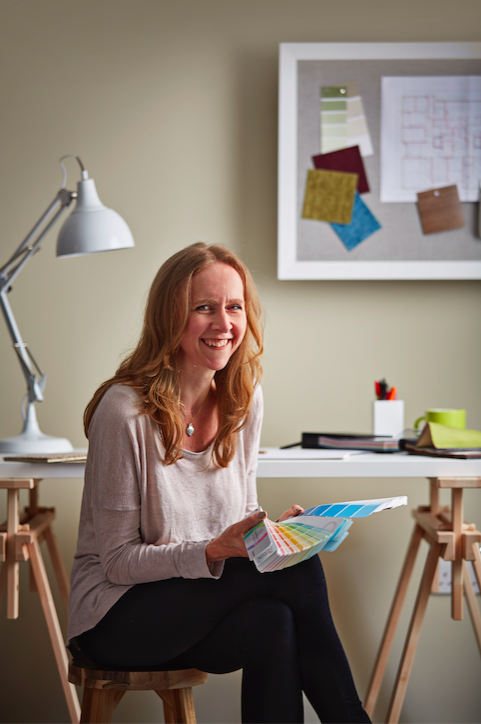 Being faced with decorating a small space is often seen as the biggest challenge in interior design yet there are a number of challenges presented when working with a multi-functional larger space.  The trend for kitchen diners and informal dining continues; it suits modern living.  The single storey kitchen extension is something many people consider before moving comforted by the fact that good sized family spaces will always add value to a home.  However decorating larger living areas can be tricky.  In the quest to extend I have met a number of clients who have gone as large as they can with a kitchen diner extension only to be at a loss as to how to furnish it or what to use it for.  In some cases this has resulted in them not really using the space and feeling disappointed every time they walk into it.
For a scheme to work it needs to be functional, practical and comfortable and it all starts with purpose.  Considering the function of a space is the very first thing you need to do when designing a room.  It's vital.  Without knowing what the space is to be used for how can you hope to end up with one that works?  Taking kitchen diners as an example you need to think about how often you entertain, do you prefer dinners to parties, will the space be used for homework, is garden access important, do the needs of any pets need to be accommodated and how might all these needs change for those using the space over the coming years.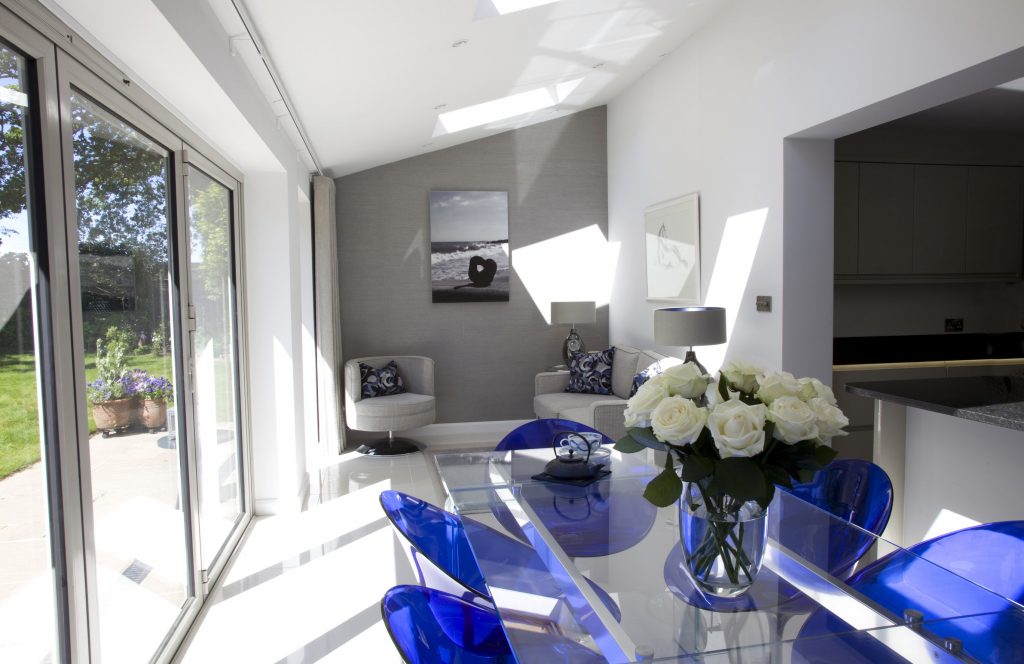 Next up is structure.  If you get this right then everything else comes together so much more easily.  The driving force of many extensions is to provide a well proportioned room for family living.  It might be that an internal wall needs to be removed before you have the shell you need or that you need to increase the amount of natural light in the space.  Glazed internal doors are great way of introducing light into darker corners of rooms and roof lanterns are good in larger single storey extensions, especially over kitchen areas.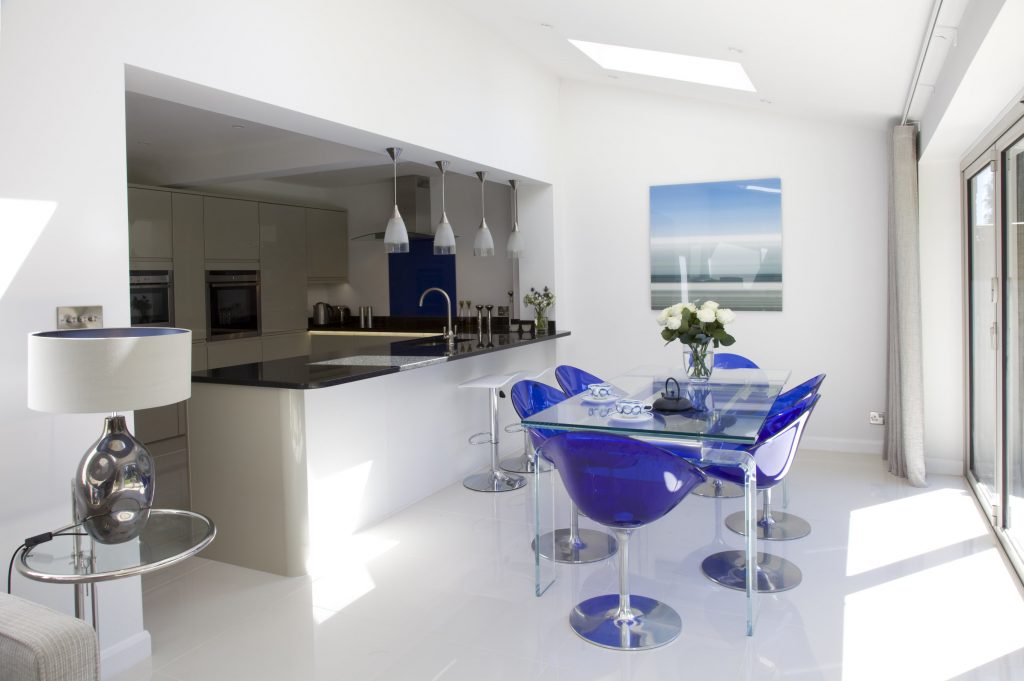 With the function and structure considered then you will need to think about the furniture you need.  Taking the example of the kitchen diner again, are you working with an existing table or are you investing in new?  If part of the function of the space is relaxation then you will need to accommodate a sofa or some occasional chairs.  Perhaps some storage for school books is a requirement of the design so that homework can be carried out at the dining table then cleared away before dinner?  In larger areas zoning is important if you want to avoid the waiting room look.  Sofas can make great partitions in larger spaces and if space allows, backed with a console table or a side board to stop the sofa back looking like a barrier.
When it comes to making open plan spaces work lighting is your best friend.  Great structure, well chosen furniture and a stunning colour scheme will all be let down without a well thought through lighting plan.  The trick is to first, consider the layout of the furniture and ensure that there is adequate light to meet the needs of the people using the space and secondly create a scheme which includes a variety of differing light sources.  The former is vital for the room to work.  A lovely comfortable chair overlooking the garden and ideal for perusing the weekend papers will not really meet the brief without the appropriate lighting for reading.  Similarly the amount of light required for home work will be quite different from the amount which you would want for a relaxed dining experience.  The latter, layering of various light sources, adds texture and interest to a scheme.  You will need general light from pendants or down lights as well as task lighting for specific areas of the room for instance food preparation or reading.  Table lamps provide an altogether different level of light and allow you to create mood and warmth in a space.  Lighting can also be decorative and provide a statement in a design.  The combination of the right light for the task and different types of light operated on a range of circuits and where possible fitted with a dimmer will allow you to create the different moods for the varied uses and then you have an open plan space which really works for you.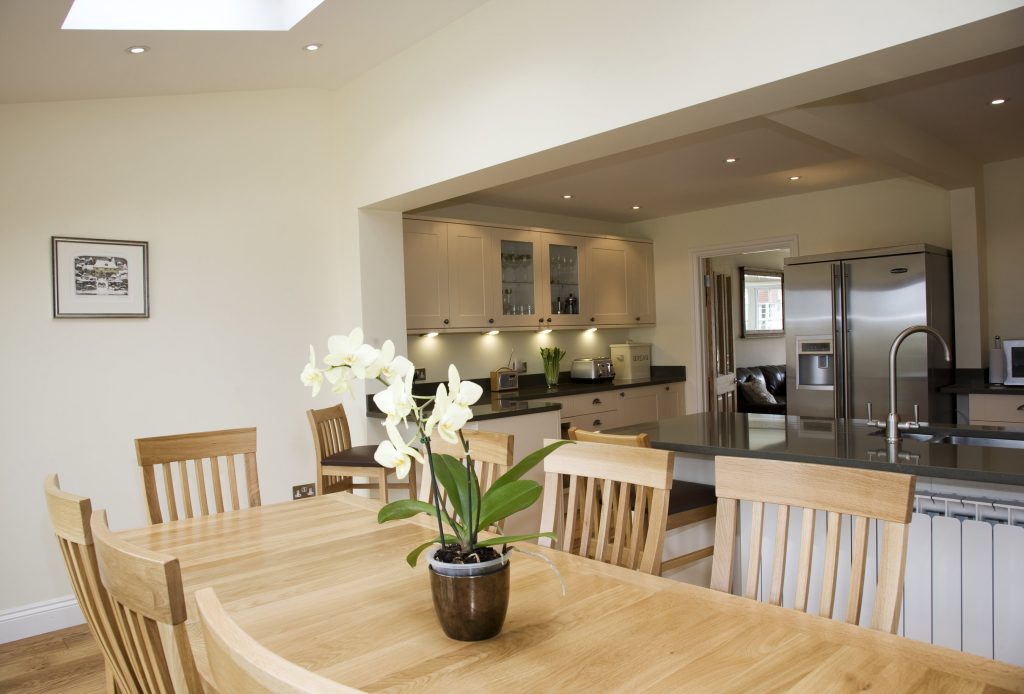 Whilst I would not say that colour is the least important consideration, it's certainly true to say that if the colour scheme is perfect for you yet the other elements of the design have not been considered then the whole space is unlikely to meet your brief.  We all have different responses to colour.  How we respond can be at a conscious and unconscious level yet it will make a massive difference to how you feel about spending time in an environment.  The scheme in an open plan living area needs to appeal to those people using it but at the same time work with the orientation of the building.  Colours behave differently in differing lights.  Paint a north facing room a blue based hue and you will make it feel cold and uninviting.  Yellow based tones will work much better.  And conversely a south facing room decorated with a yellow based palette is likely to feel unbearably hot in the summer so cooler blue based tones will be more suitable.
To me interior design is all about creating spaces you want to spend time in, ones which are easy and uplifting to live in.  It's not about the latest fashion it's about practicality and style, neither of which will ever date.
Jacqui and her husband David run HomeSmiths, an interior design practice based In Lindfield, West Sussex.  Working in both residential and commercial design, Jacqui and her team have worked with many homeowners in the South east and designed show homes for Barratt David Wilson.  Projects also include dementia care homes and assisted living schemes.
For those of you thinking of selling or letting your home, our teams would love to hear from you:
REDHILL & REIGATE: 01737 888220
CATERHAM & OXTED: 01883 708388
LINGFIELD & EAST GRINSTEAD: 01342 888450
CRAWLEY & HORSHAM: 01293 127620
HAYWARDS HEATH & BURGESS HILL: 01444 657657
CROYDON, COULSDON & PURLEY 0208 819 3272
SEVENOAKS AND TONBRIDGE 01732 617617
TUNBRIDGE WELLS 01892 300600
BRIGHTON 01273 921500